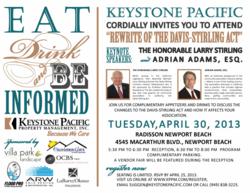 Irvine, CA (PRWEB) April 05, 2013
Keystone Pacific Property Management, a leading community association management company that has provided management services to community associations throughout Southern California for 30 years invites everyone to the symposium concerning the Rewrite of the Davis-Stirling Act.
While serving in the California Legislature, then Assembly Member, Larry Stirling authored the Davis-Stirling Common Interest Development Act. The Act created the body of law that now governs all community associations in California.
In August of 2012, it was announced that Governor Brown signed into law the rewrite of the Davis-Stirling Act. The bill reorganizes and renumbers the Act to make it user-friendly. In addition, it: groups provisions by subject matter in a logical order, divides longer sections into shorter, simpler section; clarifies the meaning of provision, standardizes terminology, and replaces outdated references to the Corporations Code. The change will go into effect on January 1, 2014.
To understand more about the changes on the act and what effects it will have, join Keystone Pacific Property Management and keynote speakers; the Honorable Larry Stirling and Adrian Adams, Esq. at 5:30 p.m. on Tuesday, April 30th at the Radisson in Newport Beach. The reception will include appetizers, drinks, raffle prizes and a vendor fair. Keystone Pacific Property Management would like to thank the following vendors for their sponsorship; Antis Roofing and Waterproofing, Villa Park Landscape, La Barre-Oksnee Insurance, Flood Pro, California Gates and Entry Systems and Orange County Building Services.
To register for the seminar visit http://www.kppm.com/register or contact Sheryl Uggen at suggen(at)keystonepacific(dot)com
About the Speakers:
HON. Lawrence W. Stirling (ret.)
Has a history of distinguished service in the public sector. After serving as an administrative analyst for San Diego's City Manager, he was elected to the San Diego City Council. Subsequently, he served four terms as Assemblyman for the 77th District. His record of achievement in the Assembly led to his election as a State Senator in 1988. Mr. Stirling's contribution in the Senate was followed by an appointment to the Municipal Court and then elevation to the Superior Court. During his tenure on the bench, Judge Stirling presided over thousands of cases, both civil and criminal. Mr. Stirling received his Bachelor's degree in Political Science from San Diego State University. He then attended Western States University School of Law, where he graduated third in his class and won three AMJUR awards.
In addition to authoring the Act which bears his name and 200 other pieces of legislation, Larry Stirling has authored two books: Leading at a Higher Level, a book on public administration reform, and Asked and Answered, a book on practical courtroom evidence.
ADRIAN J. ADAMS, ESQ.
Is one of the leading communities association attorneys in California with a practice that includes high-rise condominiums, and oceanfront communities. He serves as a legal advisor on condominium law and smoke-free housing issues to the Technical Assistance Legal Center, a project of the Public Health Institute.
Mr. Adams is the creator of the award winning website, Davis-Stirling.com, an online resource for community association boards, managers and industry professionals throughout California. He is the author of the Davis-Stirling Newsletter, which provides weekly analysis of legal trends in the industry. In addition, Mr. Adams manages Adams Kessler PLC, a law firm specializing in the representation of common-interest developments throughout California.
Following a four-year stint in the U.S. Marine Corps, Adrian earned a Bachelor of Arts, with Great Distinction, in Psychology with minors in Chemistry and Biology. Adrian went on to earn a Masters in Business Administration from the University of California at Los Angeles. Following the MBA program, Adrian earned a Juris Doctorate from Southwestern University School of Law.
About Keystone Pacific Property Management
A leader in the community association management industry for more than 30 years, Keystone Pacific Property Management specializes exclusively in the management of common interest developments in Southern California. Currently, the firm manages over 40,000 units in master-planned, condominium, townhome, and single-family home, mixed-use and commercial common interest developments. Keystone Pacific's clients receive the best care and resources as the company is committed to providing superior community association services. Keystone Pacific is one of the few local property management firms to have earned the Accredited Management Organization (AMO) designation from the Institute of Real Estate Management (IREM) and the Accredited Certified Management Firms (ACMF) in Southern California, certified through the California Association of Community Managers (CACM®). Headquartered in Irvine, California, Keystone Pacific also maintains offices in Rancho Santa Margarita and Temecula, California.
For more information, please contact Keystone Pacific at 1-877-KPPM-INC (577-6462) or visit http://www.kppm.com.