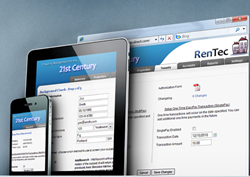 Rentec Direct has kicked their development team into high gear and have launched eleven new features in 2013
Grants Pass, OR (PRWEB) June 25, 2013
In January Rentec rolled out a significant update to the workorder system. Workorders now accept file attachments, are a property and date bound report, and last but not least the report settings save from page to page while you're using and navigating through the software.
February was a busy month; Rentec released four new and improved features and released the third major version of their popular property management software! Improvements include; new property search features, an option to add a note to a tenant or property, improved late fee defaults, and enhanced check vouchers for check printing that includes detailed information on each voucher. Rentec's version 3.0 incorporates the latest web technologies and a vast array of new features providing faster access to the data they need.
In April Rentec improved support for roommates and/or secondary tenants to enable customers to add full tenant details for multiple responsible parties on a single lease.
May also added four new and improved features including; multi-select file uploads to save the customer's time, a shortcut to the property marketing interface and the ability to upload files within the marketing page, the ability to apply tenant screening discount codes announced on their Facebook and Google+ pages, and property image thumbnails along with great new filter options to find what customers are looking for fast have been implemented.
When asked why Rentec Direct puts so much effort into customer requests and improving there software? Nathan Miller, President of Rentec Direct replied, "It is all about making the day to day chores of property managers easier."
To learn more about Rentec Direct or to obtain a 30-day full featured free trial of the software, visit http://www.rentecdirect.com/.
About Rentec Direct
Rentec Direct provides cloud based rental software solutions for property managers and landlords. Other popular solutions offered by Rentec include tenant ACH payment processing, tenant screening, and online syndication of vacancies to more than twenty popular websites.