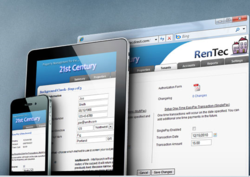 Reconciling bank accounts using Rentec's software couldn't be easier
Grants Pass, OR (PRWEB) November 15, 2011
Property managers have a hard job and that job is made harder by the tight regulations put on them. To that point, accurate records and data security are paramount for both landlords and property managers. The property management software provided by Rentec Direct offers the safety and security of data, as well as the solid accuracy demanded by the industry. To ensure the utmost accuracy, Rentec announces fully automated bank account reconciliation functionality built right into the management platform.
Whether a property manager is using Rentec for simple accounting, ACH payments, or for every aspect of the management business, bank account reconciliation will save a property manager's staff significant time every single month. What was once only available via a heavy and expensive installed software package, Rentec has used the latest web technologies to make possible right within your browser, smartphone, or tablet browser. With a couple clicks in the well thought out web-based interface, reconciling bank accounts using Rentec's software couldn't be easier.
As with all upgrades to Rentec's property management platform, this upgrade comes to all existing clients and all new clients at no additional cost. For anybody interested in exploring this technology, Rentec offers a free 30-day free trial of their property management software, available at http://www.rentecdirect.com/.
About Rentec Direct
Rentec Direct provides property management solutions for managing properties, tenants, and owners. Other popular solutions include, tenant ACH payments, criminal and credit background screening and online syndication of vacancies to more than 20 popular websites.
###