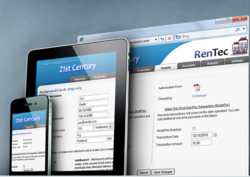 We are literally saving property managers days of work.
Grants Pass, OR (PRWEB) March 12, 2012
ACH is becoming an integral part of a landlord's life, and the right property management software makes the process so much easier. Rentec Direct is expanding ACH support for property managers and landlords to include full inbound ACH for rent collection and also outgoing ACH and reporting for paying owners.
In the past, a property managers would print out an owner statement, stuff it in an envelope along with the owners payment, and add a stamp. This was both a time consuming and expensive process. Today, with ACH enhancements inside Rentec's property management platform, a couple clicks takes care of that whole process electronically and instantly. The owner statement is emailed to the owner in a commonly recognized PDF format, and the funds are sent into the owner account by ACH. No paper wasted, no stamps, and only a fraction of the time is involved. Reports show where the electronic ACH process is every step of the way.
"Our team has reviewed this process and found we are literally saving property managers days of work and removing human error from the component at the same time", says Nathan Miller, President of Rentec Direct. "Property managers using this solution spend only a couple minutes per owner rather than the twenty to thirty minutes it used to take."
To learn more about collecting rent via ach, visit http://www.rentecdirect.com/
About Rentec Direct
Rentec Direct provides rental software solutions for managing rental properties. Other popular solutions offered by Rentec Direct are tenant ACH payment processing and tenant screening, and online syndication of vacancies to more than 20 popular websites.