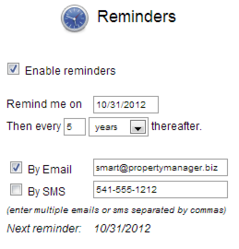 With minimal effort property managers or their employees can setup one-time or recurring reminders.
Grants Pass, OR (PRWEB) October 16, 2012
Property managers are some of the busiest people on earth. Between the hundreds to thousands of applicants for properties, rent adjustments, repairs, employee management, and dozens of other required daily activities, it is no wonder some things can slip through the cracks. Rentec, makers of industry leading property management software, have done their part in solving this problem for property managers and landlords using their platform by introducing an intuitive, simple to use event reminder system.
With minimal effort property managers or their employees can setup one-time or recurring reminders. When the reminder date arrives, similar to traditional scheduling systems, a reminder will be evident to the manager allowing them to defer the reminder or complete the task and dismiss it. Reminders can also recur on any user-defined schedule, which makes this reminder system great for events which recur every number of days, weeks, months, or years. Rentec has built the utmost flexibility into the scheduler to accommodate every possible recurring schedule.
Property managers using the platform have already expressed enormous positive remarks regarding this notification system; even so, Rentec didn't stop there. Every reminder can also trigger an email or sms (text message) to the responsible party. An example use case is to setup an annual sms or email reminder to the handy man to clean the gutters every November, a task which can otherwise be forgotten. Perhaps the manager wishes to be reminded every 12 months to review the lease rate for a certain property. Really, the examples and uses of these new features are endless.
To learn more about Rentec Direct, visit http://www.rentecdirect.com
About Rentec Direct
Rentec Direct provides cloud based rental software solutions for property managers and landlords. Other popular solutions offered by Rentec Direct include tenant ACH payment processing and tenant screening, and online syndication of vacancies to more than 20 popular websites.