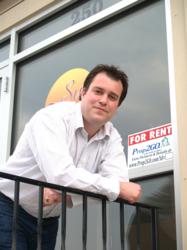 Our primary focus is providing quality service to our clients, who are realtors and property managers, but equally important is innovating every day
Saint John, NB (PRWEB) June 13, 2011
"We have the technology already developed, and we have the hardware to maintain it, why not test the limits of our ingenuity," states Jason Richard, founder and CEO of Prop2Go. Since Prop2Go has the ability to capture and store an abundance of property and real estate data, they set their sights on capturing as much data as possible and see what kind of results the world real estate and rental industry can provide. The ultimate goal is to have sufficient property listings that they can start mining the information for social economic trends on the world market. A goal they expect to reach in 2012.
Prop2Go recently launched in the following countries: Italy (prop2go.it), France (prop2go.fr), Germany (http://www.prop2go.de) Mexico (http://www.prop2go.mx), Spain (http://www.prop2go.es), India (prop2go.in) and the United Kingdom (prop2go.uk.co)
Unlike other software companies, it is the company's rapid growth in web traffic that is fueling the research and innovation at Prop2Go, and not the other way around. "Our office sometimes feels more like an experimental software laboratory than an online business" states Jason. "Everything we do is tested in real-time on the internet; it's the only way we can be certain that the results are properly measured." But research has been proven to be beneficial for Prop2Go since their traffic continues to grow month after month. "Our primary focus is providing quality service to our clients, which are realtors and property managers, but at the same time is innovating every day" describes Jason.
The company's revenue model is still based on offering internet services to realtors and property managers since they are the closest to the source of the data. In addition, the company depends on advertising revenue to help pay for their research. Using Google AdSense as their online marketing supplier/partner, they can focus on their technology without being too distracted. Prop2Go's claim to fame is the ability to get large amounts of visitor traffic relatively quickly. That is their core competency and it's what they want to prove in other parts of the world.
As long as the company can continue the momentum in visitor traffic and keep adding property listings such as: apartments for rent, houses for sale as well as commercial properties, Jason is very confident they will have no problems reaching their goals. "We just started, and we are getting close to that critical mass of data, wait until we get there – it's going to be an exciting time for us".
For more information, please feel free to contact http:http://www.prop2go.com.
###