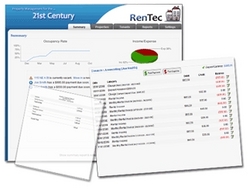 Rentec PM is designed by and for property managers.
Medford, OR (PRWEB) May 25, 2010
Rentec Direct, the fastest growing online property management software, has expanded its offering with two new editions to create the same comprehensive and easy to learn property management solution in use by landlords who manage tens of thousands of properties worldwide. These two new editions now cater to property managers and condominium associations.
Rentec PM is designed by and for property managers and expands upon the existing software used by landlords worldwide and adds the capabilities needed for property managers to not only manage properties for themselves but to manage for others by keeping track of property owners and disbursements. This adds to the already powerful suite of tools in Rentec which make managing properties easy with Rentec Direct. Top features in Rentec PM include:

Full Bank, Tenant, Property and Owner general ledger accounting to keep records simple and accurate. Easy tab based navigation for switching between properties, tenants and other accounts.
Automated Tenant ACH allows property managers to simplify the collection process and go green at the same time by eliminating the need for paper checks and repeated trips to the bank for deposits.
Tenant Screening which includes financial as well as criminal record search for qualified landlords. Proper tenant screening eliminates placing tenants who have stiffed past landlords or been a criminal problem for any other community.
Secure online access is available for both tenants and owners. Tenants can login to review their statement and balance, as well as schedule online payments for their rent. Owners can view property performance, vacancy rates, and property ledgers.
These tools turn an average property management firm into an exceptional one while also alleviating many support inquiries from tenants and owners since the information can be obtained instantly online through the tenant and owner portals. To learn more about Rentec PM, visit Rentec Direct Property Management Edition at http://www.RentecDirect.com/PM.
Property managers are ecstatic to learn of these new releases. Kent at Sunsurf Properties writes: "You guys have the best support team for any software I have ever dealt with, hands down! You are so helpful. If anyone asks me about what rent software I use, I tell them there is only one that makes sense. I thoroughly researched just about everything out there and you had the best balance of simplicity AND functions...and your great customer service is icing on the cake."
Rentec for Associations includes all the simplicity and tools that come with Rentec Pro (the edition designed for landlords) and adds the functionality to manage both tenants and owners for processing both rents and HOA dues. There never has been an easier way for a self-managed or professionally managed HOA to keep their records and provide those records to the owners real-time via the new owner portal. Rentec for Associations is the ideal association management software for small to large HOAs encompassing condominium associations and other smaller PUD or HOA property associations.
About Rentec Direct: Rentec Direct has produced property management software for upwards of ten years and recently converted the application to a web (cloud) based application which runs on powerful and secure servers connected to the internet full time. This allows any property manager, landlord, or association manager easy access to their records from any connected computer worldwide. With the initial release of Rentec Basic, the free community version of the application, Rentec Direct customer base has grown exponentially. Providing a free community edition for smaller landlords has contributed to the success of Rentec by providing developers with input as to the needs of landlords and property managers while at the same time providing a valuable tool free to the community thereby improving many landlords' bottom lines and thereby also doing their small part to help repair the economy. The community version has spread like wildfire throughout the landlord community and is relied upon by thousands of landlords encompassing tens of thousands of properties. The community edition was followed by Rentec Pro landlord software which was designed for professional landlords. The newer editions are designed for property managers and associations to bring the same tools and simplicity to their organizations.
Unlike many other property management applications, Rentec Direct was designed with simplicity in mind. There is no need for a property management firm or landlord to spend tens of thousands of dollars on training their employees on the application. Rentec Direct is simple to use and simple to learn and is based upon current technologies. Tutorials are free of charge and training to learn the complete ins and outs of the application takes only a couple of days as compared to months or years of competing products. Rentec Direct is so confident in their product they offer a 60 day unlimited free trial so property managers can see for themselves with no strings attached that Rentec Direct's property management software will improve their operation. To learn more about Rentec Direct and receive a limited time 30% discount on services along with a 60 day unlimited trial, visit their website at http://www.RentecDirect.com.
###