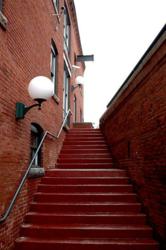 You wouldn't think there are high tech solutions to our business, but we have found one and have made the appropriate investment
Dover, NH (PRWEB) April 26, 2012
"You wouldn't think there are high tech solutions to our business, but we have found one and have made the appropriate investment," said owner and founder Thomas Toye. There are so many facets to property management it can be overwhelming and complex to keep up with everything. Each property is like a separate business. It has its own accounting, tenants, contractors and of course its own ownership. For a Property Management Company, that can be a lot to keep organized. So a systematic approach, with full integration is critical.
"After thorough research Arthur Thomas Properties has committed the necessary investment to an all-encompassing, centralized cloud based and paperless property management system that interlinks tenants, contractors, owners, leasing agents, maintenance staff, and administration," said Thomas Toye.
Clients (landlords) of Arthur Thomas Properties will have an electronic login that will give them real time access to both current and past data. Reports like cash flow statements, expense reports, year-end tax reports, rent roll, vacancy reports and more will now be available with just a few clicks or a smart phone swipe. This software system is for clients with just one single family rental home or a large apartment complex and also condominium & home owner associations.
A tenant with a maintenance issue will be able to electronically log in the request. The request will automatically be dispatched to the appropriate technician who will be able to respond to the maintenance need from the field, and initiate the proper actions. If preferred, a tenant may place a call to the property management office and an administrator can simply create the request.
Leasing agents can quickly and efficiently update the status of rental listings. Once a lease is executed and the information is entered in the new system all reports are updated. Accounting will know how much to bill and for how long. Leasing will know when they need to contact the tenant about renewals. Advertising like craigslist will automatically update so the unit is no longer listed for rent.
This property management system truly brings a high technology to a low technology business.
About Arthur Thomas Properties
Arthur Thomas Properties is a full service property management company located in Dover, NH. The firm has been helping property owners lease and manage their properties since 2004. The company was founded by Thomas Toye, a leader in the local real estate industry. Tom currently serves as President of the Rental Property Owners Association. For more information or help with property management please call 603-413-6175 or visit http://arthurthomasproperties.com/