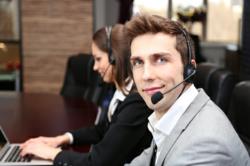 This is all about finding the best ways to resolve complaints,
(PRWEB) May 28, 2013
PropertyValues.us.org has introduced gamification training to improve their rate of complaint resolution, the company said yesterday.
"Finding a way to deal with a customer complaint fairly is the hallmark of a good business," a company spokesman said. "The most recent studies show that the best way to train your team in complaint resolution is through gamification training."
Under gamification training, customer service representatives are split up into two teams. One team tries to create the most difficult to solve complaint possible; the other team tries to solve the complaint fairly and efficiently.
"One team gets scored for how difficult the complaint is," the spokesman said. "The other team gets scored on how quickly they solve it. Then they switch roles and try again. Whichever team gets the most points will get a bonus."
Tying financial incentives into the complaint resolution training is essential for it to work, he said.
"This is all about finding the best ways to resolve complaints, so we need to motivate people as much as possible," he said. "This is a great way to make sure that each and every customer complaint will be dealt with the right way."
The hope is that employees will use the skills developed during the training when they get a customer complaint while on the job.
"We think this is a fun way to up our game when it comes to complaint resolution," he said.
About PropertyValues.us.org:
PropertyValues.us.org was created to give people access to public records concerning the potential value of real estate. It offers consumers an independent source of real estate related information from a constantly updated database. Visit PropertyValues.us.org to chat with a live representative, call 1-866-605-0308, or email Manager(at)PropertyValues.us(dot)org with any questions or concerns.