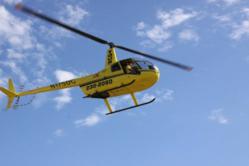 Pop the big question as the sun is setting and the ocean is sparkling.
Destin, FL (PRWEB) September 07, 2012
Over the years, couples have vacationed to the beautiful beaches of the Emerald Coast to take the next step in their relationship. Destin has coined itself as the luckiest fishing village, but there is so much other than fishing and beaches to this little tourist town. If Destin will be the place to pop the big question, here are some great ways to do it.
1) Helicopter Sunset Tour - Take a scenic tour during sunset and view the beaches from a birds eye view. Pop the big question as the sun is setting and the ocean is sparkling.
2) Private Sailing Charter - Hire a sailboat captain and set sail on the beautiful waters of the Destin Harbor. When the dolphins are jumping and salty air is blowing, seize the moment and say those four words.
3) Parasailing -Book a parasail trip and take take to the sky. Take advantage of the views and the peaceful serenity as the parachute soars through the sky. Just be sure to hold that ring tight or else the ocean will steal yet another memory!
4) Dinner Cruise - Book a dinner cruise on the Solaris at the Sandestin Resort and let the staff help make the proposal an incredible one. Live music, beautiful views, and a incredible meal make for a perfect opportunity to make her yours.
5) The Beach - There is no better place to propose than on the beaches of the Emerald Coast. Pick a quiet spot and wait until sunset. This will be a moment that will last forever!
When planning a romantic vacation to Destin, be sure to check out TripShock.com for hotels, activities and things to do.
About TripShock.com
TripShock! ® is the one and only online travel agency in the Northern Gulf Coast that enables travelers to book tours and activities directly. TripShock! offers trusted reviews from real travelers, photos, videos and other planning tools to help create the perfect Gulf Coast vacation. TripShock! attracts more than 500,000 visitors annually and partners with over 100 activity and lodging providers from Florida to Louisiana.