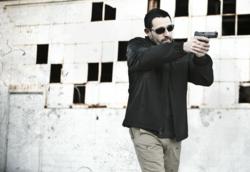 PROPPER LS1 apparel was designed with high-speed features for the tactical athlete.
St. Louis, MO (PRWEB) January 24, 2013
PROPPER INTERNATIONAL announces PROPPER LS1, a new product line designed for the tactical athlete to enhance movement and performance. Inspired by high-intensity athletic wear, the nine new garments in this collection boast maximum mobility and technical functionality.
A portion of proceeds from all PROPPER LS1 apparel will benefit Sheep Dog Impact Assistance, a non-profit organization that supports military and law enforcement personnel in times of need. Shoppers can look for a Sheep Dog hangtag on all LS1 garments to identify qualifying products in store.
One standout from PROPPER's new LS1 collection is the BA Softshell Jacket, which flat-out lives up to its name. In addition to the inherent good looks of this jacket, it's loaded with clever details like a sleek magnet chest pocket for silent access to gear and a pull-out badge panel that commands authority when needed. Its highly versatile, three-season counterpart is the Icon Softshell Vest. The vest is has a modern, athletic fit that is equally at home on or off duty.
The new Grip Tee offers the comfort of a t-shirt with the performance of an athletic base layer. Ergonomic, contoured seams move with you and won't restrict your speed. And the Fastback Polo features advanced wicking fabric that pulls moisture away from the body, keeping the wearer cool and comfortable in high-speed situations.
The new LS1 collection features two styles of tactical pants that are built to move. The STL I Pant features a gusseted crotch that offers a greater range of motion while the rapid-access angled cargo pockets keep crucial supplies quickly within reach. The STL II Pant blends clean, modern design with covert tactical features. The durable nylon stretch fabric has a professional look and the sleek internal cargo pockets offer low-profile storage.
PROPPER's customized brand engagement vehicles are traveling across the country to demo these new products and more from the LS1 collection. Fans of PROPPER can follow the mobile tour or find a local PROPPER retailer at http://www.propper.com.
ABOUT PROPPER
PROPPER INTERNATIONAL is one of the largest suppliers to the United States armed forces, having manufactured over 120 million garments for the U.S. Department of Defense. PROPPER also manufactures apparel for law enforcement, first responder and tactical markets. PROPPER commercial products are distributed through more than 3,000 military, public safety, outdoor and specialty retail stores and websites across the country. For more information, visit propper.com.
ABOUT SDIA
Sheep Dog Impact Assistance has three primary missions – provide assistance to military, law enforcement, fire and other emergency personnel in times of hardship; support communities during natural or human-afflicted disasters; and provide information on survival and disaster preparedness. For more information, visit sheepdogia.org.