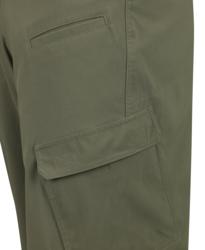 The STL I Pant boasts maximum mobility and technical functionality at a price unmatched in the tactical industry.
St. Louis, MO (PRWEB) February 27, 2013
PROPPER INTERNATIONAL announces the STL I Pant, a stretch pant designed with the tactical athlete in mind. Part of the LS1 collection, the STL I Pant boasts maximum mobility and technical functionality inspired by high-intensity athletic wear, at a price unmatched in the tactical industry.
The STL I Pant is made from comfortable stretch fabric that moves with the body to enhance speed and agility. The DWR finish sheds water and spills to maintain a professional appearance.
The STL I features 11 pockets, including two rapid-access ergonomic cargo pockets on the upper thigh. PROPPER moved these pockets up higher on the body than traditional cargo pockets and rotated them inward, a design innovation that offers better access while sitting, standing or crouching.
Additional features on the STL I Pant include a gusseted crotch for greater range of motion, additional zipper pockets above both wallet pockets, and a hidden stash pocket in the center back waistband. The STL I is available in black, khaki, olive and LAPD navy, and pairs with the STL Shirt or the Fastback Polo to create a professional uniform.
The STL I Pant retails for $59.99 and is available at authorized PROPPER retailers nationwide. A portion of proceeds from the STL I Pant will benefit Sheep Dog Impact Assistance, a non-profit organization that supports military and law enforcement personnel in times of need. Shoppers can look for a Sheep Dog hangtag on all LS1 collection garments to identify qualifying products in store.
PROPPER's customized brand engagement vehicles are traveling across the country to demo the STL I Pant and more from the LS1 collection. Fans of PROPPER can follow the mobile tour or find a local PROPPER retailer at propper.com.
ABOUT PROPPER
PROPPER INTERNATIONAL is one of the largest suppliers to the United States armed forces, having manufactured over 120 million garments for the U.S. Department of Defense. PROPPER also manufactures apparel for law enforcement, first responder and tactical markets. PROPPER commercial products are distributed through more than 3,000 military, public safety, outdoor and specialty retail stores and websites across the country. For more information, visit propper.com.
ABOUT SDIA
Sheep Dog Impact Assistance has three primary missions – provide assistance to military, law enforcement, fire and other emergency personnel in times of hardship; support communities during natural or human-afflicted disasters; and provide information on survival and disaster preparedness. For more information, visit sheepdogia.org.