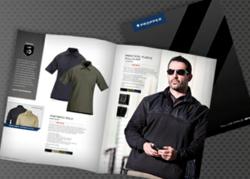 The newest catalogs from PROPPER highlight best-sellers alongside new products designed for the concealed carry enthusiast.
St. Louis, MO (PRWEB) April 24, 2013
PROPPER INTERNATIONAL introduces two new catalogs to highlight new products and best-sellers from its tactical and military apparel lines. These catalogs convey product specs, key features and pricing for all PROPPER apparel items available now.
The PROPPER Concealed Carry Product Guide highlights casual apparel geared specifically towards the concealed carry enthusiast. The featured products combine comfortable, casual apparel with low-profile features that offer quick and confident access to a concealed weapon. Key items include the Cover Hoodie, Independent Button Up, Profile Puff Vest and BA Softshell Jacket. This catalog is available for download at propper.com and will be distributed at gun ranges and tactical distributors nationwide.
PROPPER also releases its Full Line Catalog for the 2013 calendar year. This handbook includes all core tactical and military items along with PROPPER's three newest collections – Sweep, LS1 and CCMF – designed to help the wearer adapt and perform in a variety of specific environments. A portion of proceeds from these new collections will benefit Sheep Dog Impact Assistance, a non-profit organization that supports military and law enforcement personnel in times of need. The Full Line Catalog is available for download at propper.com and will be available at authorized PROPPER public safety and military surplus retailers nationwide.
PROPPER's customized brand engagement vehicles are traveling across the country to demo new products and distribute new catalogs to shoppers and retailers. Fans of PROPPER can follow the mobile tour or find a local PROPPER retailer at propper.com.
About PROPPER INTERNATIONAL
PROPPER INTERNATIONAL is one of the largest suppliers to the United States armed forces, having manufactured over 120 million garments for the U.S. Department of Defense. PROPPER also manufactures apparel for law enforcement, first responder and tactical markets. PROPPER commercial products are distributed through more than 3,000 military, public safety, outdoor and specialty retail stores and websites across the country. For more information, visit propper.com.
###