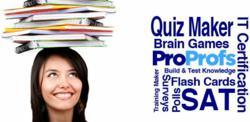 Santa Monica, California (PRWEB UK) 7 March 2013
ProProfs Training announced its new initiative, ProProfs LMS Resources, which provides free educational materials to individuals and institutions involved in the field of online education and training.
With more and more educational institutions, businesses, enterprises and individual instructors relying on online Learning Management Systems, ProProfs Training Maker is offering free materials and resources to teach professionals how to successfully integrate these tools into their training programs.
ProProfs LMS Resources cover a broad spectrum of the aspects of professional Learning Management Systems, offering everything from introductory topics such as what is an LMS, to more detailed and in-depth videos and articles explaining the features, benefits, administration and technology behind LMS systems.
ProProfs LMS Resources also provides downloadable checklists comparing different LMS vendors in terms of costs, maintenance, support, deployment, hardware requirements and more.
"We created this educational resource, not just to introduce educators and trainers to Learning Management Systems, but also to provide them with reliable, practical and useful information on how to optimally utilize LMS systems for deploying online courses and assessments", explained Sameer Bhatia, founder and CEO of ProProfs.com. "This is in line with ProProfs's philosophy of empowering everyone to access educational content freely online, so that they can make the best decisions", he added.
Along with key information about LMS systems, ProProfs LMS Resources is a platform where instructors can catch up with the current changes in online learning and training.
ProProfs LMS Resources features include:
● Integrated software platforms, which allow users to perform various tasks, from creating and delivering courses & assessments, to managing learners' reports, certificates, feedback and more. ProProfs LMS Resources provides detailed tutorials explaining the different aspects of LMS Systems, as well as helpful tips on how to streamline and maximize their use.
● Most SMEs and educational institutions require LMS systems which are easy to use and affordable. ProProfs LMS Resources consists of detailed articles explaining the differences between services such as self-hosted or vendor-hosted LMS systems, as well as cost comparisons between SaaS, open-source and proprietary LMS software. The information helps individuals and institutions understand the differences between LMS systems and vendors, and make the best choice for their needs.
● ProProfs LMS Resources also offers video tutorials and a number of articles explaining the features and benefits of LMS systems and how they help educational institutions and enterprises in improving the scope of their online learning and training programs.
A video tutorial describing LMS is available at: http://www.youtube.com/watch?v=FAsdtwj00Uo and more information can be accessed online at: http://www.proprofs.com/c/category/lms/
About ProProfs.com
ProProfs (http://www.proprofs.com/training/software/lms-software) is the leading provider of comprehensive online tools for building, testing and applying knowledge. Through its Quiz software, Survey software and Learning Management System software, ProProfs offers trainers, marketers and educators powerfully-simple features without requiring users to download or learn expensive software. With the largest library of public quizzes and assessment tools on the Web, as well as excellent tracking and measurement dashboard, ProProfs empowers users with a valuable feedback engine and business intelligence, helping them increase productivity, efficiency and profitability. ProProfs is a privately-held company based in Santa Monica, California.