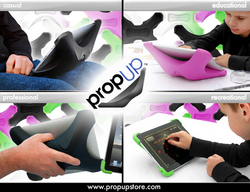 PropUp truly is the most comfortable way to hold and use your iPad
Tulsa, OK (PRWEB) March 9, 2011
What do millions of Apple iPad users have in common? They all need a comfortable, safe and easy way to work with their iPad. Luckily, mobile accessory start-up PropUp, LLC has an economical and ergonomic solution.
"Everyone loves their iPad," says Todd Andrews, self-professed armchair inventor and creator of the PropUp, "until they try to hold it for an extended period, use it on a flat surface or in their lap at a comfortable viewing angle. Then it quickly becomes an uncomfortable balancing act. That's why we created the PropUp."
PropUp enables you to position your iPad, so you can enjoy using it wherever you might be – making a presentation at the office or watching a movie at home or on an airplane - the PropUp enables your iPad to rest comfortably on a tabletop or in your lap completely hands free. It also makes holding the iPad for extended periods of time more comfortable."
"We designed the PropUp to cradle your iPad with a durable, strong material that is also light-weight and flexible," says Andrews. "It's strong enough to provide added protection to the corners and back of your iPad, but also soft enough to feel comfortable in your hands or in your lap. Its sleek design compliments the iPad's style." The company has two variations, one of the original iPad and another for the forthcoming iPad2.
The PropUp does not use any hooks, fasteners or clips. Its patent pending flex and tension design naturally grips and secures the iPad in place. You can confidently place your iPad in landscape view or portrait view with minimal effort, place it in your lap, or even display it easily with one hand. The PropUp is designed to hold your iPad even if it is wrapped in most protective cases or skins. And you can even turn the iPad facedown to cushion the screen for added protection when traveling.
Andrews invented the product and started the company to develop and market PropUp and a variety of product extensions he envisions for the tablet accessory market. "I've spent countless hours and thousands of my own dollars working to turn this dream into reality," said Andrews. "Our test marketing has delivered incredibly encouraging feedback on the product. I've just been accepted by kickstarter.com and hope to raise the additional funds to take this to the next level." Andrews said he plans to modify tooling, invest in product development and fund production with the additional funding. Kickstarter.com is the leading social funding platform on the web for creative projects.
According to Andrews, he is in discussions with several potential distribution partners, including regional and national retailers. He also has plans to release the PropUp in a variety of popular colors, as well as to offer co-branding opportunities. We're very excited about the future and look forward to releasing many new products in the months ahead."
###