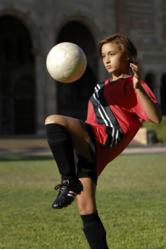 ProRehab's Certified Athletic Trainers are the first line to preventing, evaluating, and treating injuries.
Evansville, IN (PRWEB) October 06, 2011
ProRehab, PC of Evansville, Indiana, has renewed its sports medicine partnership with the Evansville Vanderburgh School Corporation (EVSC) for an additional five-year commitment. This partnership allows ProRehab to continue to provide first-rate Athletic Training services to local area high school athletes, to include North High School, F. J. Reitz High School, Benjamin Bosse High School and Harrison High School.
Athletes who are enrolled in high schools outside of EVSC benefit from ProRehab's Athletic Training services as well, including Mater Dei High School, Reitz Memorial High School, John H. Castle High School and multiple schools in Knox County, Indiana. ProRehab's Certified Athletic Trainers are experts in injury prevention, providing immediate medical attention and working with comprehensive teams of physicians to provide the best continuum of care for student athletes.
"From heat illness to concussions to ACL injuries and beyond, ProRehab Certified Athletic Trainers and Physical Therapists are well versed in a multitude of injury needs," states Pat Wempe, PT, DPT, SCS, CSCS, ProRehab physical therapist and owner. "Partnering with the EVSC has been a solid, long-term relationship and we look forward to what the next five years hold."
"We value our partnership with ProRehab and have seen the valuable work they have done with our student athletes, helping them rehabilitate," comments Paul Neidig, Director of Athletics and Chief of Operations for the EVSC.
No matter what the sport, on the field, court, track, or mat, minimizing downtime is critical. Athletes cannot afford to miss one practice, game or event. Certified Athletic Trainers and Physical Therapists at ProRehab use cutting edge techniques such as Functional Movement Screens and ImPACT Screening to keep athletes in top condition, reduce their risk of injury and identify performance enhancing strategies.
A Functional Movement Screen is a test to determine "how well you move" and discover hidden weaknesses before they affect performance or turn into injuries and deter an athlete's potential. Research in the February 2010 Journal of Strength and Conditioning suggests that Functional Movement Screens can be "confidently used to assess the movement patterns of athletes and to make decisions related to interventions for performance enhancement…and assist in identifying athletes at risk for injury." By improving fundamental movement patterns and eliminating asymmetries, ProRehab Certified Athletic Trainers and Physical Therapists can set a solid foundation upon which the athlete can improve performance.
In June 2011, the American Journal of Sport Medicine estimates that 1.6 to 3.8 million concussions occur every year in the United States. As medical professionals continue to learn more about concussions, their causes, and effective treatments, it is clear that it is imperative to accurately identify concussions to determine proper treatment. Neurological screens, such as ImPACT, can play a large role in accurate concussion identification.
ImPACT is the most widely used and scientifically sound computerized concussion evaluation system available for athletes. The Certified Athletic Trainers at ProRehab provide ImPACT screening during the pre-season to measure brain abilities. ProRehab's Certified Athletic Trainers are also present at student athletic events. If an injury occurs they can immediately compare the student's pre-season brain abilities to his or her current abilities. This helps to identify symptoms and the severity of the concussion. ProRehab then refers athletes, as needed, to doctors who specialize in the treatment of these injuries.
"ProRehab's Certified Athletic Trainers are the first line to preventing, evaluating, and treating injuries," explains Sean Malone, ProRehab therapist. "If an athlete is injured on the field during practice or games the ATC is there to provide the appropriate treatment; whether it be providing first aid, making return to play decisions, or referring to the appropriate healthcare provider."
ProRehab Certified Athletic Trainers and Physical Therapists are the best first choice for injury prevention, performance enhancement and treatment of musculoskeletal conditions for student athletes and their families in the tri-state area. For more information about ProRehab please visit ProRehab-PC.com.
About The Evansville Vanderburgh School Corporation (EVSC):
EVSC supports 39 schools and is the third largest school corporation in the state of Indiana. It's schools feature a variety of innovative options for students including the state's first half-day academy for law and social justice, The Shepard Academy - named after the Chief Justice of Indiana; as well as a medical professions academy, Early College High School, and New Tech Institute. EVSC's mission is to provide "equity and excellence for all children." For more information about EVSC, please visit evscschools.com.
About ProRehab:
ProRehab is a private physical therapy practice with locations in Evansville, southwest Indiana and western Kentucky. Known for teaching and training physical therapists throughout the region, ProRehab physical therapists are proud that patients ask their doctors to send them to ProRehab for orthopaedic care. They deliver hands-on physical and occupational therapy based on the newest research to achieve the best results for patients with bad backs, achy joints, wounded hands, and sports and work injuries. Find ProRehab on Facebook, @ProRehab on Twitter, and FourSquare.
###