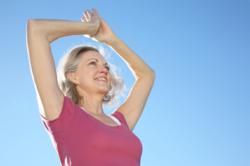 Along with exercises, stretches, pelvic floor massage, and biofeedback, I now consider myself to be completely cured…and my physical therapist Lisa is the reason why! I couldn't have asked for a more comfortable and caring environment.
Evansville, IN (PRWEB) June 16, 2011
In a March 2011 report the United States Food and Drug Administration (FDA) identifies that urinary incontinence is a common health problem among women. The FDA also reports that up to 50% of the adult United States population suffers urinary incontinence and that it is associated with poor quality of life, social isolation, and depression. ProRehab helps women understand that they do not have to learn to live with incontinence problems.
According to the Mayo Clinic online in 2011, urinary incontinence is the loss of bladder control and is very common. "The severity of urinary incontinence ranges from occasionally leaking urine when you cough or sneeze to having an urge to urinate that's so sudden and strong you don't get to a toilet in time. Treatment options for urinary incontinence range from more conservative approaches, including behavioral techniques and physical therapy to more aggressive options, such as surgery."
"Scientific evidence shows that 80% of women can improve with physical therapy that focuses on muscle strength and healthy bladder habits," states Lisa Kiesel, PT, DPT, ProRehab physical therapist and pelvic floor specialist. "Women are often reluctant to speak up about urinary issues because they are somewhat embarrassed and uncomfortable to talk about it. There are treatments that help so women don't have to deal with these annoying symptoms. We help you live a fuller life by eliminating or reducing incontinence with proven treatments."
ProRehab has a dedicated physical therapy center with therapists specifically trained in the treatment of pain and dysfunctions affecting women, such as urinary incontinence. Helping women regain control over their bodies is the number one priority of care. Therapists at ProRehab use the latest scientific evidence and tools, such as the rehabilitative ultra sound imaging, to get patients better faster, so they can avoid the costly use of prescriptions and surgery.
According to the Journal of Obstetrics and Gynecology, 50% of women perform Kegel exercises incorrectly. 25% of that 50% do the exercises so incorrectly that they make their condition worse. ProRehab utilizes Rehabilitative Ultrasound Imaging to give instant visual feedback to patients. This allows patients to see exactly which muscles they are working and exactly how to perform exercises correctly. ProRehab is the only clinic in the Tri-State area that provides Rehabilitative Ultrasound Imaging.
"I am so appreciative for all the great work you did for me!" states a recent patient who was treated by Kiesel. "My physical therapist helped me to become aware of my pelvic floor muscles…I had no idea I was holding a lot of tension in that area. Along with exercises, stretches, pelvic floor massage, and biofeedback, I now consider myself to be completely cured…and my physical therapist Lisa is the reason why! I couldn't have asked for a more comfortable and caring environment. Thank you to Lisa and the wonderful staff at ProRehab who were always friendly and sensitive to my confidential situation."
Physical therapists who are experts in Pelvic Floor Rehabilitation are able to provide an initial evaluation that includes a complete review of medical history and symptoms, a physical exam of pelvic floor muscle strength and coordination, a bladder diary assessment, and screening for postural and lower extremity flexibility deficits that can contribute to incontinence. After the initial evaluation, a personal program will be put together for each patient based on their needs.
To learn more about ProRehab's treatments for women's health issues such as, pelvic pain, painful intercourse, loss of bladder or bowl control, constipation, or pain and dysfunction during and after pregnancy, please visit prorehab-pc.com
About ProRehab:
ProRehab is a private physical therapy practice with locations in Evansville, southwest Indiana and western Kentucky. Known for teaching and training physical therapists throughout the region, ProRehab physical therapists are proud that patients ask their doctors to send them to ProRehab for orthopaedic care. They deliver hands-on physical and occupational therapy based on the newest research to achieve the best results for patients with bad backs, achy joints, wounded hands, and sports and work injuries. Along the way, the ProRehab family has fun and makes friends with their patients; patients are actually sad to leave after their treatment is over! Find ProRehab on Facebook, @ProRehab on Twitter, and FourSquare.
###