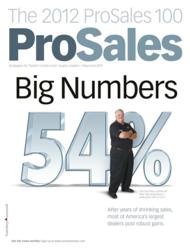 Washington, DC (PRWEB) May 16, 2012
America's largest pro-oriented construction supply companies last year recorded their biggest sales since 2008 and added 44 more facilities nationwide, but held the line on hiring, the latest PROSALES 100 reveals.
The PROSALES 100 is the premier report on construction supply companies that garner at least a third of their revenues from professional builders. Large operations that cater primarily to retail customers, such as The Home Depot, Lowe's and Menards, are excluded, thus making it possible to examine more accurately the pro-oriented side of the lumber and building material industry.
The annual report released today by Hanley Wood's PROSALES magazine found that PROSALES 100 companies sold a total of $26.24 billion worth of goods in 2011, up 7.3% from their sales total in 2010. Seventy-two of the 100 companies posted an increase in sales, a sharp contrast with the mere 10 that had done that well in 2009. Meanwhile, only 20 suffered declines in 2011 sales (in 2009, 90 did), and of those 20, none fell more than 16%. In contrast, in 2009 there were 31 dealers that had sales declines topping 20%.
"Twelve months ago, when we asked dealers to list their major achievements, one out of every 10 responded with 'We survived,'" said Brendan Rimetz, PROSALES' project editor and leader of the PS100 report. "This year, they filled the survey with reports about new ventures launched, staffers hired, facilities opened, credit facilities renegotiated, deals made, and awards won."
But even as PS100 members were busier at the cash register and opened a net 44 more facilities to push their total number of facilities to 5,387, they also kept their payroll under tight controls. The dealers that were on both last year's and this year's PROSALES 100 lists ended 2011 with 3% fewer employees than they began. Of those 78 dealers, 33 added staff, 32 trimmed their worker count, and 13 reported no change.
"Over the past 10 years, total PROSALES 100 revenues have risen and fallen in line with—but not in total lockstep with—changes in housing starts," noted Craig Webb, PROSALES' editor. "Dealers definitely were hurt by the housing market crash of half a decade ago, but they were able to limit some of their potential losses by selling to other groups"
ABC Supply of Beloit, Wis., was the biggest company on the PROSALES 100 for the second year in a row while Denver-based ProBuild managed to hold onto the No. 2 position despite a 6% fall in gross sales. The next four spots were unchanged: Beacon Roofing Supply of Peabody, Mass., in third; Allied Building Products of East Rutherford, N.J., in fourth; 84 Lumber of Eighty Four, Pa., in fifth; and L&W Supply—the distribution arm of Chicago-based USG Corp.—in sixth.
After that came two Dallas-based companies, Roofing Supply Group and Builders First Source, in seventh and eighth place, respectively. They both moved up a spot this year after the former No. 7 dealer, Stock Building Supply of Raleigh, N.C., dropped two places to ninth. As it did last year, BMC of Boise, Idaho, closed out the top 10.
In keeping with its focus, the PROSALES 100 rankings are based on a company's sales to professional builders and contractors, not on gross sales. The average PROSALES 100 member reported getting 85% of its revenue from pros, and there was only one that got less than 50%: Stine Lumber of Sulphur, La.
PROSALES 100 companies fit into three groups: traditional lumberyards that focus on selling wood and other building products; lumberyards that also have manufacturing operations, typically to build trusses and wall panels or put the final touches on door assemblies; and specialty dealers, which focus on selling a narrow variety of products, such as roofing or insulation.
Lumberyards without manufacturing capabilities made up 24% of the survey members but accounted for just 6% of total PROSALES 100 revenues. In contrast, there were only 11 specialty dealers on the list, but they made up 46% of all sales. Lumberyards with manufacturing capabilities were 65% of the PROSALES 100's membership but just 48% of its sales.
"Building material dealers historically haven't spent much on information technology, but our survey turned up signs that IT expenditures will grow," PROSALES publisher Mark Taussig said. "The number of dealers planning this year to spend more than 1% of their annual revenue on technology rose to 9% of all respondent from 5%, while those willing to spend between 0.25% and 0.5% grew to 49% from 43.%"
PROSALES magazine provides residential construction companies with information, insights and advice on improving sales and service. For more information on the magazine or PROSALES 100, visit prosalesmagazine.com and click on the tab near the top marked "PROSALES 100 & Companies."
About Hanley Wood
Hanley Wood, LLC, is the premier media company serving housing and construction. Through four operating divisions, the company produces award-winning magazines and websites, marquee trade shows and events, rich data and custom marketing solutions. The company also is North America's leading provider of home plans.