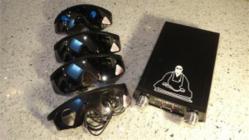 Individuals enrolled in Yoga classes find using the pROSHI for twenty to thirty minutes prior to start of group instruction beneficial for warming up and getting focused.
Los Angeles, CA (PRWEB) July 22, 2012
MindMachines.com Announces pRoshi Mind Machine sales figures showing a fivefold increased due to blossoming acceptance within the yoga community. For the second fiscal quarter of 2012 Mindmachines.com launched a marketing campaign designed for the worldwide Yoga community. The campaign, entitled "Visual Meditation" because of the ability for the participant to visualize deep theta-state-induced meditative images and thoughts via pROSHI, generated a 500% increase in sales compared to the same fiscal quarter in 2011.
Michael Landgraf, co-operator of Mindmachines.com and longtime Yoga practitioner, has been introducing Yoga enthusiasts, instructors and studio, retreat and spa proprietors to experience the pROSHI / Yoga connection. According to Mr. Landgraf: "Individuals enrolled in Yoga classes find using the pROSHI for twenty to thirty minutes prior to start of group instruction beneficial for warming up and getting focused. Yoga Instructors and Studio Proprietors allowing new clients pRoshi sessions observe immediate progress in client mental, emotional and physical Yogic development. Many of these clients arrive immediately after work, fight heavy traffic, hunt for an empty parking spot and appear preoccupied with personal daily stressors that counteract the ability to relax, much less maintaining inner-focus. Yoga instructors found personally using pROSHI during their own scheduled routines result in better session experiences and execution. Yoga Spa and Retreat representatives grasped pROSHI potential immediately, citing vacationers arriving out-of-sorts from long air flights, jet lag and disruption in their ultradian rhythms. With pROSHI instruments available upon arrival, visitors to these retreats are able to shed their mental, emotional and physical lethargy quickly, enabling them to immediately enjoy their retreat time getting acquainted, perfecting their skills and learning new methods from qualified instructors. Enhancing visitor focus and meditative abilities is one of the primary goals often mentioned by the retreat and spa owners who took part in our Visual Meditation campaign. All participants felt pROSHI is the ideal meditative companion to Yoga. This awareness of the pROSHI-Yoga connection by the Yoga community is the number one reason Mindmachines.com experienced a 500% sales increase."
A key reason for the pROSHI's sales success stems from emphasizing the pROSHI's biggest strength: the pROSHI is a visual "digital mantra" generator. A mantra is a phrase which is repeated by the meditator during meditation. The phrase is not a recorded mantra played over and over. Rather, the phrase is repeated by the user, which means slight variations occur upon each utterance of the mantra. The pROSHI successfully emulates this tact. The pROSHI does not simply play back a specific session, instead generating a program that creates a digital artificial visual mantra that contains organic variations. This strength was immediately apparent to the Yoga / pROSHI participants. When for many the goal of meditation is to attain a sense of timelessness, of deep inner-awareness blended into external oneness, pROSHI utilization enables the meditative mind to access very deep states of consciousness, releasing images and creative concepts into personal awareness, with participants retaining the thoughts and images for accessing when fully awake and refreshed.
Mr. Chuck Davis, inventor of the pROSHI, describes pROSHI session experiences as: "DisEntrainment through Photostimulation. By sending specially calibrated flickering light through the eyes and into the brain, pROSHI stimulation helps 'DisEntrain' the mind, freeing it from its unhealthy cyclical patterns. The brain attains a meditative 'normalized' state in which it becomes totally at rest …yet attentive at the same time - similar to the brain of a Zen Master, which helps you achieve your personal Zone without conscious effort."
The pROSHI system includes: the pROSHI unit, 3 pairs of LED glasses and one Electromagnetic glasses, charger and stylish carrying bag. For further information contact Mindmachines.com