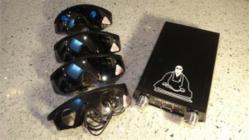 Los Angeles, CA (PRWEB) October 09, 2012
MindMachines.com announces new lower pricing on pROSHI Neurodynamic Activator mind machine. A new agreement with Chuck Davis, head of ROSHICorp and inventor of the pROSHI has led to new pricing for the pROSHI mind machine at mindmachines.com, the world wide distributor of the meditation brain disentrainment device. Previously the pROSHI sold for $2150.00 including express delivery. The price has now been reduced to $1795.00. The change in pricing is due to a new version of the device glasses which will be released very soon. The remaining inventory of pROSHI II will be sold at this discounted price saving customers $355.
"It is very exciting to offer the amazing pROSHI at a price previously unimagined. Our customers will save $355 per order. The pROSHI is the perfect mind machine for anyone interested in meditation or mind yoga. By simply donning the glasses, sitting back or laying down comfortably, closing the eyes and switching on the device anyone can experience a sensation of timelessness and deep meditation. It is like a car wash for the brain. It is very healthy and safe to do and has benefits ranging from clearer thinking to treatment of addiction and ADD. The pROSHI was an in-clinic only device prior to MindMachines.com becoming the international distributor. The pROSHI has proven itself during years of clinical use. Now anyone can get one at mindmachines.com and best of all we have just reduced the price by $355," says Fred Williams, high-tech meditation enthusiast and product specialist.
The pROSHI Neurodynamic Activator is a brainwave disentrainment device that calms the mind into a meditative state.
Chuck Davis, inventor of the push button meditation device, says, "When a person is deeply, deeply relaxed the subject's critical-logical mind is quieted, the client is learning to witness the training, rather than `trying to do' the training by learning to focus one's attention, with the least amount of effort; the zone. From this 'space', the immune system, too, can do its 'housekeeping', as it is not being /disturbed/ by the noisy incoherent conscious mind. The Complex (adaptive), C (a), EEG coupled L&S protocol, appears to induce the brain towards focused attention, it appears to accelerate the boost of the brain's metabolism, blood flow, enough that the subject is able to maintain awareness, during training, without falling to sleep; whereas the average person would have long wandered into sleep land."
Chuck Davis is the inventor of the pROSHI and heads ROSHICorp, manufacturer of the high-tech meditation device.
MindMachines.com is the world wide distributor of the pROSHI disentrainment light stimulation mind machine.