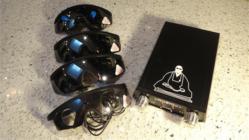 The pROSHI is uniquely situated as an ideal device for this study, due to its previous clinical use and effectiveness. I strongly believe that the pROSHI neurodynamic activator belongs in this study and will demonstrate a new treatment modality
Los Angeles, CA (PRWEB) September 30, 2012
MindMachines.com officially nominates the pROSHI neurodynamic activator for VA and DOD PTSD study. The DOD (United States Department of Defense) and VA (Veterans Administration) have announced $100 million funding for a PTSD (Post Traumatic Stress Disorder) and TBI study.
"PTSD and mTBI are two of the most-prevalent injuries suffered by our warfighters in Iraq and Afghanistan, and identifying better treatments for those impacted is critical," Assistant Secretary of Defense for Health Affairs Dr. Jonathan Woodson said. "These consortia will bring together leading scientists and researchers devoted to the health and welfare of our nation's service members and veterans."
The Personal ROSHI is a central nervous system training device developed to enhance the brain's functionality and to inhibit anomalous events. Created as the NeuroDynamic Activator® for both clinical (ROSHI(AVS)) and personal (pROSHI) use, its purpose is to cause the brain to evaluate and repair itself as needed, its processing pathways. With the goal of the brain's functioning at optimum levels and peak performance, the pROSHI increases the brain's ability to function according to its original intent. Patterned after the deepest level of meditation practiced by monks, the pROSHI also works to promote that oneness of mind, body and spirit by signaling the brain into that meditative state. The pROSHI is an complement to traditional neurofeedback, promoting effective and long term benefits. It is also designed for use as a personal cognitive enhancement.
"The pROSHI is uniquely situated as an ideal device for this study, due to its previous clinical use and effectiveness. I strongly believe that the pROSHI neurodynamic activator belongs in this study and will demonstrate a new treatment modality for these conditions. Because of this MindMachines.com formally nominates the pROSHI to be part of this study. As distributors of the pROSHI we can facilitate the use of the device for the study. Researchers that receive the grants should contact mindmachines.com for special accomodations.", says Fred Williams, product specialist at mindmachines.com.
Chuck Davis is the inventor or the pROSHI II Neurodynamic Activator and the head of ROSHICorp. He is well known and respected in the field of brainwave technology.
MindMachines.com is an online information center for the light and sound machines and brainwave entrainment community and distributor of the best mind machines and neurolearning technologies.