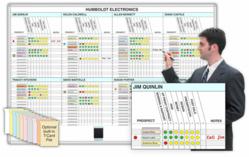 This board helps you target, predict and manage each prospect to customer sales conversion opportunity.
Macedon, NY (PRWEB) May 18, 2011
Magnatag's new magnetic Sales Prospect-Tracker whiteboard shows each salesperson's progress as they target, develop, land and maintain customer relationships. The CEO of a Rochester NY hose assembly manufacturer told us, "The magnet colors visually explain to us where we are with any given prospect and where the snags are so that management can respond and help. It shows us where our sales people are pursuing new business to drive growth and gives us a look forward to determine what type of work is coming in the near future."
Magnatag spokesperson Christian Krapf says, "This board helps you target, predict and manage each prospect to customer sales conversion opportunity. Our customers tell us that seeing all their sales prospects in one place, with ongoing conversion process details, creates a focal point for the sales process and continually motivates their sales team. We include everything needed to operate the board including color coded 2-sided FlipOver magnet symbols to show the status of each relationship stage (Yellow = To Do, Green = Done, Red = Problem, plus 3 extra colors for special codes). The new U-Word-It tool lets you customize the printed board wording free of charge and there is an optional built-in T-Card file-slot next to each prospect name to display the sales conversion process details right on the board."
Built to stay like new for a lifetime of daily use with heat fused printed lines and lettering, Magnatag's Prospect-Tracker whiteboard kits are offered online in 5 sizes for 4 to 16 sales people with 8 or 14 step versions with room for 15 key prospects for each sales person. For full details go to http://www.magnatag.com/PROSPECT or call 800 624 4154 and talk to a visible systems specialist.
About Magnatag® Visible Systems: a division of W.A. Krapf, Inc., they design, manufacture and direct-market over 2,300 magnetic printed steel task-specific and all-purpose whiteboard scheduling kits including calendars, maps, custom printed whiteboards, a full line of magnets and accessories (many patented) and other information display systems for industry, hospitals, schools, business, organizations and government. Their 45th year, a family company http://www.magnatag.com.
###