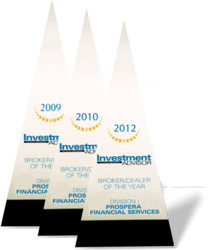 Firm's representatives rank Prospera tops in Investment Advisor magazine's annual poll.
Dallas, Texas (PRWEB) August 30, 2012
Prospera Financial Services, Inc. (Prospera) was named last week as Investment Advisor magazine's 2012 Broker-Dealer of the Year in Division I, representing firms with up to 199 producing advisors. The magazine conducts an annual poll asking its financial advisor readers to anonymously rank their firms on criteria like service, payout and technology. This is the third time in four years that Prospera has attained the prestigious industry honor.
David Stringer, President of Prospera, states "This award is especially meaningful to me and the entire Prospera team because it really came from our reps through their nominations. We firmly believe we work for them; this is like receiving a glowing performance review. Our entire support team is keenly focused on delivering industry-leading service and support to our financial professionals so our win is particularly gratifying as recognition of their hard work."
A sampling of comments from the nominations indicates that many reps credit the level of support they receive from Prospera as a key factor in the firm's win. Notes one voter, "It is great to own your own business. But practically speaking, it would be difficult to manage the relationship with the custodian on our own. Having Prospera Financial Services as our broker-dealer gives us an advocate and streamlines all of our processes. Anytime we have an issue for a client that needs resolution, Prospera helps us find satisfaction in a fraction of the time it would take us to do it alone." Another advisor adds, "It is a firm built by advisors for advisors. Having Prospera on our side helps us deliver the best of all worlds to our investment clients: Business owner consultants who are here for the long-haul, the security of a large well-known custodian, and an independent broker-dealer monitoring all aspects of their financial experience."
The annual Broker-Dealer of the Year award is based on voting in 15 different categories, including an overall rating that counts for 30% of the total score. The broker-dealer receiving the highest average rating from its voting representatives wins Broker-Dealer of the Year in its division.
About Prospera Financial Services, Inc.:
Celebrating 30 years in business in 2012, Prospera Financial Services, Inc., Member FINRA/SIPC, is an independent, privately-owned broker-dealer headquartered in Dallas, Texas. With locations across the country, Prospera supports 120 advisors and manages 3.3 billion in assets. Prospera Financial offers the flexibility of a boutique paired with the resources only found at some of the nation's largest brokerages, in part through its correspondent clearing arrangement with First Clearing, LLC, an affiliate of Wells Fargo Advisors. http://www.prosperafinancial.com
About Investment Advisor Magazine
Investment Advisor, a publication of Summit Business Media, offers information and analysis on wealth management, retirement planning, investment strategies, practice management, compliance and regulatory issues, and insurance and tax planning, all designed to help registered investment advisors and independent Broker-Dealer representatives become more successful.
About Investment Advisor magazine's 'Broker-Dealer of the Year' Competition
Since 1991, the editors of Investment Advisor have invited their readers, who are producing, independent contractor representatives of Broker/Dealers to rate their own Broker/Dealers in a number of categories, and provide an overall rating.