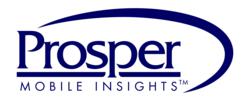 41.7% of Smartphone Users admit they do not have a landline to use in case of an emergency—they are totally dependent on their smartphone to make calls.
Worthington, OH (PRWEB) February 16, 2012
With talks of SOPA, PIPA and ACTA, it's no surprise the majority of Mobile Users (70.3%) say they are somewhat or very concerned that the government could pass a censorship law prohibiting them from visiting their favorite mobile sites and apps, according to a recent survey conducted by Prosper Mobile Insights™. Only 12.8% are not at all or not very concerned while 16.9% are neutral.
While an overwhelming majority worries about government censorship, not all users are sure how new legislation would affect their lives. 38.2% say a censorship law would have a negative impact on them personally, just over 1 in 10 (11.7%) feel a censorship law would have a positive effect while 29.7% don't think there will be any effect on their personal lives. 20.4% aren't sure.
In addition, most Mobile Users are leery of anyone else deciding for them what content is "offensive." 66.8% say individual device users should have the final say in determining what is inappropriate and what should be blocked. 14.3% would opt for service providers taming the mobile Internet while 1 in 10 (9.9%) believe it is the federal government's duty.
If they were choosing what to block, most Mobile Users would censor racial slurs and nudity. Pirated content and foul language in print are also among the top offensive types of content on mobile devices:
Content that SHOULD be Censored
Racial slurs in print: 59.8%
Nudity: 51.5%
Racial slurs in music/videos: 51.1%
Pirated content: 48.4%
Foul language in print: 44.6%
Source: Prosper Mobile Insights™ Mobile Survey, January-12
It appears as though Mobile Users aren't as willing to let apps be censored. While 42.3% think full websites with offensive content should be blocked, fewer (36.8%) want to see full apps blocked for inappropriate content.
For the full, complimentary report, click here.
Censorship is not the only way to block access to a Mobile User's favorite sites and apps—service outages are also a major concern for most smartphone and tablet users. Over half (58.0%) say they are somewhat or extremely stressed when their device loses service. Only 21.9% say they are not at all or not very stressed when this happens.
Whether stressed or not, most Mobile Users find another Internet source to connect to, while many use landline phones and 2 in 5 contact customer service:
Top Activities When Users Lose Mobile Service
Access the Internet from a different device (laptop): 54.2%
Pick up a landline phone to make a call: 46.4%
Contact service provider and talk to customer service: 39.1%
Watch TV instead: 24.5%
Read a book instead: 23.9%
Source: Prosper Mobile Insights™ Mobile Survey, January-12
Although using a landline phone is one of the top things to do during a service outage, 41.7% of Smartphone Users admit they do not have a landline to use in case of an emergency—they are totally dependent on their smartphone to make calls.
"If you ask a smartphone or tablet user what it is about their device that they can't live without, most won't answer Angry Birds, GPS or Facebook," said Pam Goodfellow, Consumer Insights Director at BIGinsight™. "Calling, texting and Internet access are the essentials—games and apps are just the icing on the cake."
For more insights on how consumers are using smartphones and tablets, download the Prosper Mobile Android Tablet App or access the online Prosper Mobile InsightCenter™, recently updated with new January mobile survey data.
About Prosper Mobile Insights™
Prosper Mobile Insights™ provides companies with a comprehensive view of how consumers are using mobile devices including smartphones and tablets. The insights illustrate how consumers are engaging with digital media, including ownership, purchase intentions, activities, usage, service, influence, and ultimately how new technologies are reshaping consumers' lives. The January mobile survey included 343 smartphone and tablet users from the SSI Panel who completed the survey on their devices. The survey was collected from 1/31 - 2/2/12 and the margin of error is 5.3%. Prosper Mobile Insights™ is a trademark of Prosper Business Development. http://www.prospermobile.com
Survey Sampling International (SSI)
Bringing together Survey Sampling International and Opinionology, SSI is the premier global provider of world-leading sampling, data collection and data analytic solutions for survey research. SSI reaches respondents in 72 countries via Internet, telephone, mobile/wireless and mixed access offerings. Value-add services include questionnaire design consultation, programming and hosting, data processing and real-time reporting. SSI serves more than 2,000 clients, including the top 50 research organizations. It has 30 offices serving clients around the world.
Contact:
Prosper Mobile Insights™
Chrissy Wissinger
chrissy(at)biginsight(dot)com
Randi Honkonen
randi(at)biginsight(dot)com
614-846-0146
SSI
Ilene Siegalovsky
Ilene_Siegalovsky(at)surveysampling(dot)com
203-567-7230
###