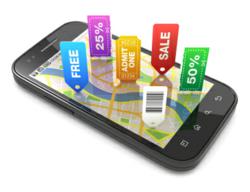 The price and type of the item along with security of the site or app are big influences on Mobile Users' decision to purchase via mobile.
Worthington, OH (PRWEB) September 05, 2012
Mobile shopping appears to be a fast growing trend, as nearly 9 in 10 (88.1%) Mobile Users say they regularly or occasionally research products on their smartphone or tablet. 66.5% also regularly or occasionally purchase products through the mobile channel, according to a recent survey conducted by Prosper Mobile Insights™.
Those Mobile Users who have shopped at Best Buy in the past 90 days are most likely to regularly research and purchase products using a mobile device among Shoppers* profiled. Amazon Shoppers also appear to have a knack for m-commerce. Although Target and Walmart Shoppers are less likely to participate in these shopping behaviors on a mobile device, a majority of each store's customers admit to at least occasional researching and purchasing.
Mobile shoppers are most likely to have bought apparel, entertainment items such as CDs, ringtones, or small ticket electronics such as a DVD player. Further, 1 in 10 says they've purchased big ticket electronics like televisions on their smartphone or tablet:
Products Purchased on Smartphone/Tablet
Mobile Users 18+
Apparel: 29.9%
Entertainment (CDs/DVDs/Books/etc): 23.2%
Ringtones or other media for device: 20.1%
Small ticket electronics: 19.5%
Beauty products: 14.6%
Gift cards: 11.9%
Big ticket electronics: 10.4%
Home décor: 8.8%
Appliances: 7.9%
Furniture: 6.1%
Source: Prosper Mobile Insights™ Mobile Survey, Aug-12
For a complimentary Mobile User report, including segments for Amazon, Best Buy, Target and Walmart Shoppers, click here.
*For this analysis, Shoppers are defined as those who said they shopped at a particular retailer in the past 90 days. Select retailers profiled include Amazon, Best Buy, Target and Walmart.
Apparel (40.5%) is also the most popular category to research on a mobile device, followed by big ticket electronics (38.7%) and smaller gadgets (37.8%). Although only 7.9% of Mobile Users say they purchased an appliance using a smartphone or tablet, 3 in 10 (31.7%) say they have researched these household electronics via mobile.
Naturally price is a major deciding factor when choosing whether or not to purchase an item on a mobile device. The type of item and security of the site or application are just as relevant:
Considerations for Mobile Purchases
Mobile Users 18+
The price of an item: 52.4%
The security of the site/app: 51.8%
The type of item being purchased: 50.0%
The form of payment (credit/debit/other account): 47.0%
The reputation of the site/app: 45.1%
How easy the site/app is to use: 41.8%
Source: Prosper Mobile Insights™ Mobile Survey, Aug-12
Are there some items consumers just won't purchase on a mobile device? 2 in 5 say they would never consider buying a large electronic item (40.9%) or furniture (38.7%) using their smartphone or tablet. However, almost as many (37.8%) admit they would consider purchasing all types of items through the mobile channel. Different retail shoppers appear to have different feelings: more Best Buy shoppers would consider purchasing a big ticket electronic device and Amazon shoppers are more likely to consider all types of items.
"In the early years of e-commerce, many consumers were hesitant to click the 'purchase' button, but we can all agree the convenience of buying online has grown on us," said Pam Goodfellow, Consumer Insights Director at BIGinsight. "We expect the same for the growth of m-commerce: starting small, but once consumers find their comfort zones, mobile shopping will become a viable buying channel for a substantial proportion of the population."
Even though not all Mobile Users purchase from their devices, 2 in 5 (39.0%) are bringing their smartphone or tablet to the store in order to read product reviews to decide between products. Half of Amazon (52.4%) and Best Buy (50.5%) Shoppers follow suit. While "checking in" for discounts in a store is popular among 23.8%, those who've shopped Best Buy (38.9%) or Target (34.0%) recently are more likely to utilize this saving strategy.
For more insights on Mobile Cross-Shopping, check out the complimentary report.
For more insights on how consumers are using smartphones and tablets, download the Prosper Mobile Android™ Tablet App or install the Apple Web App. You can also access the online Prosper Mobile InsightCenter™, updated monthly with fresh insights and mobile consumer trends.
About Prosper Mobile Insights™
Prosper Mobile Insights provides companies with advanced cloud-based technology-driven solutions delivered via multiple devices (PC/Tablet/Smartphone) from the Prosper Mobile InsightCenter™. This decision center provides a comprehensive view of how consumers are using mobile devices including smartphones and tablets. The insights illustrate how consumers are engaging with digital media, including ownership, purchase intentions, activities, usage, service, influence, and ultimately how new technologies are reshaping consumers' lives. The August mobile survey included 328 smartphone and tablet users from the SSI Panel who completed the survey on their devices. The survey was collected from 8/21 - 8/24/12 and the margin of error is 5.4%. Prosper Mobile Insights™ is a trademark of Prosper Business Development. http://www.prospermobile.com
Survey Sampling International (SSI)
Bringing together Survey Sampling International and Opinionology, SSI is the premier global provider of world-leading sampling, data collection and data analytic solutions for survey research. SSI reaches respondents in 72 countries via Internet, telephone, mobile/wireless and mixed access offerings. Value-add services include questionnaire design consultation, programming and hosting, data processing and real-time reporting. SSI serves more than 2,000 clients, including the top 50 research organizations. It has 30 offices serving clients around the world.
Contact:
Prosper Mobile Insights™
Chrissy Wissinger
chrissy (at) biginsight (dot) com
Randi Honkonen
randi (at) biginsight (dot) com
614-846-0146
SSI
Ilene Siegalovsky
Ilene_Siegalovsky (at) surveysampling (dot) com
203-567-7230
Android™ is a trademark of Google, Inc.