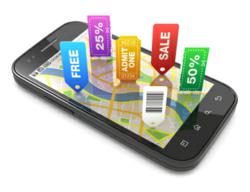 Electronics, Entertainment, Clothing and Toys Top Mobile Shopping Categories
Worthington, OH (PRWEB) November 06, 2012
A recent analysis from Prosper Mobile Insights™ highlights how Mobile Users are likely to engage with their devices for holiday shopping, providing insight for retailers attempting to increase ROI and make adjustments during the critical holiday season. The majority (55.3%) of Mobile Users plan to utilize a smartphone or tablet for holiday shopping this year, to research, purchase, locate stores or assist with other shopping tasks, according to a recent Mobile Survey. Most of these Mobile Holiday Shoppers (61.9%) say they will use their device primarily as a "mobile mall," purchasing products and comparing prices. The other 38.1% will use mobile technology for organization—keeping gift lists and planning shopping trips. These activities are on par with last year's holiday shopping season.
It appears most of these tech-savvy shoppers will use their "mobile malls" to compare prices between brick or click shops while browsing in-store, creating both opportunities and challenges for retailers dreaming to be in the black this holiday season. Almost half of Mobile Holiday Shoppers will also tap into product reviews from their smartphone or tablet to help them decide what items to purchase:
Mobile Activities While Shopping In a Store this Holiday Season (Mobile Holiday Shoppers)
Compare prices with another physical store: 66.0%
Compare prices with an online retailer: 59.7%
Read product reviews to decide between products: 48.1%
"Check in" for a discount: 40.3%
Scan a QR code to get more information about a product: 39.9%
Request a price match: 37.9%
Source: Prosper Mobile Insights™ Mobile Survey, Oct-12
For a complimentary Mobile Holiday Shopping report, click here.
"We've all heard of the concept of showrooming, especially as it pertains to Best Buy and Amazon.com," said Pam Goodfellow, Consumer Insights Director at BIGinsight™, "but comparing prices and products between retailers is just another of those smart shopping strategies that consumers have adopted to keep their spending in check. It'll be up to retailers this holiday season to provide shoppers with value propositions they can't resist – turning the showroom into a selling floor."
Speaking of Best Buy and Amazon, when it comes to electronics, these digital devices will likely be hot items for mobile holiday shopping. The majority plans to research them using a smartphone or tablet while 2 in 5 plan to purchase electronics via mobile:
Top Holiday Gifts to Research via Mobile (Mobile Holiday Shoppers)
Electronics: 69.1%
Clothing or clothing accessories: 50.4%
Books/CDs/DVDs/Blu-Ray/Video Games: 45.7%
Toys: 44.9%
Sporting Goods: 29.7%
Top Holiday Gifts to Purchase via Mobile (Mobile Holiday Shoppers)
Electronics: 41.2%
Books/CDs/DVDs/Blu-Ray/Video Games: 39.0%
Clothing or clothing accessories: 36.7%
Toys: 35.7%
Gift Cards: 24.9%
Source: Prosper Mobile Insights™ Mobile Survey, Oct-12
Clothing, entertainment items and toys also top the mobile shopping list for searches and purchases, while 1 in 4 plan to buy gift cards using a smartphone or tablet.
With the notion of cautious optimism hanging around for the holidays, it is no surprise that most Mobile Holiday Shoppers will likely take advantage of special pricing on Black Friday and Cyber Monday. The majority (62%) say they are somewhat or very likely to purchase products using a smartphone or tablet on each of these major shopping days.
For more insights on how consumers are using smartphones and tablets, download the Prosper Mobile Android™ Tablet App or install the Apple® Web App. You can also access the online Prosper Mobile InsightCenter™, updated monthly with fresh insights and mobile consumer trends.
About Prosper Mobile Insights™
Prosper Mobile Insights provides companies with advanced cloud-based technology-driven solutions delivered via multiple devices (PC/Tablet/Smartphone) from the Prosper Mobile InsightCenter™. This decision center provides a comprehensive view of how consumers are using mobile devices including smartphones and tablets. The insights illustrate how consumers are engaging with digital media, including ownership, purchase intentions, activities, usage, service, influence, and ultimately how new technologies are reshaping consumers' lives. The October mobile survey included 333 smartphone and tablet users from the SSI Panel who completed the survey on their devices. The survey was collected from 10/24 - 10/29/12 and the margin of error is +/- 5.4%. Prosper Mobile Insights™ is a trademark of Prosper Business Development. http://www.prospermobile.com
Survey Sampling International (SSI)
Bringing together Survey Sampling International and Opinionology, SSI is the premier global provider of world-leading sampling, data collection and data analytic solutions for survey research. SSI reaches respondents in 72 countries via Internet, telephone, mobile/wireless and mixed access offerings. Value-add services include questionnaire design consultation, programming and hosting, data processing and real-time reporting. SSI serves more than 2,000 clients, including the top 50 research organizations. It has 30 offices serving clients around the world.
Contact:
Prosper Mobile Insights™
Chrissy Wissinger
chrissy(at)goprosper(dot)com
Randi Honkonen
randi(at)goprosper(dot)com
614-846-0146
SSI
Ilene Siegalovsky
Ilene_Siegalovsky(at)surveysampling(dot)com
203-567-7230
Android™ is a trademark of Google, Inc.
Apple® is a trademark of Apple, Inc., registered in the U.S. and other countries.