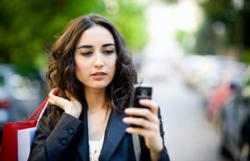 67% say location-based coupons are convenient, but 44.8% have security concerns. Further, 25.6% say they are open to receiving these types of coupons on their mobile devices.
Worthington, OH (PRWEB) October 05, 2011
Sharing their location with retailers in order to receive discounts may be worth the privacy risk for the majority of mobile consumers. 67.0% somewhat/strongly agree that location-based coupons are very convenient and useful according to a recent mobile survey among smartphone and tablet users conducted by Prosper Mobile Insights™. Respondents answered questions directly on their mobile devices.
Further, 1 in 4 (25.6%) Mobile Users say they would prefer to receive coupons on a smartphone or tablet automatically when they are near a store. However, double that number (51.1%) would prefer to receive coupons on their device via email. Manually searching for coupons, scanning QR codes and receiving promotional texts/IMs also rank higher than automatic location-based coupons. Receiving discounts on the spot, though, appears more popular than "checking in" through social media (only 10.3% would prefer this method):
Coupon Preferences on Smartphones/Tablets
Receive via email: 51.1%
Manually search for them: 32.2%
Scan a QR code when inside a store: 31.9%
Receive via text or instant message: 31.0%
Receive automatically when near a store: 25.6%
Check in through social media: 10.3%
Don't want to receive coupons at all on device: 18.1%
Source: Prosper Mobile Insights™ Mobile Survey, September-11
While 81.9% are open to receiving coupons on their smartphone or tablet in one form or another, location-based coupons do raise privacy concerns—44.8% are somewhat/very concerned about their location being tracked or other security issues. 29.6% are neutral while 25.6% are not concerned.
For the full, complimentary September report, click here.
For more insights on how consumers are using smartphones and tablets, download the Prosper Mobile Android Tablet App or access the online Prosper Mobile InsightCenter™.
The majority of Mobile Users engage in shopping behaviors on their smartphones or tablets. Most conduct research: 76.4% browse or look for a product or service while 73.0% use their device to locate a store or store hours. 48.9% research specific products and 45.7% read customer reviews on their smartphone or tablet. Interestingly, 42.2% have used their smartphone or tablet as a coupon (scanning a bar code, showing a text to a cashier, etc.) Nearly 2 in 5 (39.7%) have also made a purchase directly on a mobile device and 36.2% have scanned a QR code.
Other Key Findings Among Mobile Users:

44.0% admit they communicate more impersonally (text/IM) with their loved ones as a result of owning a smartphone or tablet. However, 56.0% say they call loved ones more often than they text. 16.4% say calling and texting is 50/50, while 27.6% text significant others more often.
88.7% regularly or occasionally use a smartphone or tablet at work while 86.7% take their devices to outdoor activities. 77.0% bring smartphones or tablets along to nightclubs, 75.4% use them in the bathroom and 71.6% are active on their devices while eating a family meal.
Mobile users take their devices everywhere, right? Actually, the majority do not use their smartphones or tablets in church (67.4%) or at the movie theater (57.4%).
About Prosper Mobile Insights™
Prosper Mobile Insights™ provides companies with a comprehensive view of how consumers are using mobile devices including smartphones and tablets. The insights illustrate how consumers are engaging with digital media, including ownership, purchase intentions, activities, usage, service, influence, and ultimately how new technologies are reshaping consumers' lives. Prosper Mobile Insights™ is a trademark of Prosper Business Development. http://www.prospermobile.com
Survey Sampling International (SSI)
Bringing together Survey Sampling International and Opinionology, SSI is the premier global provider of world-leading sampling, data collection and data analytic solutions for survey research. SSI reaches respondents in 72 countries via Internet, telephone, mobile/wireless and mixed access offerings. Value-add services include questionnaire design consultation, programming and hosting, data processing and real-time reporting. SSI serves more than 2,000 clients, including the top 50 research organizations. It has 30 offices serving clients around the world.
Contact:
Prosper Mobile Insights™
Chrissy Wissinger
Chrissy(at)biginsight(dot)com
Randi Honkonen
Randi(at)biginsight(dot)com
614-846-0146
SSI
Ilene Siegalovsky
Ilene_Siegalovsky(at)surveysampling(dot)com
203-567-7230
###