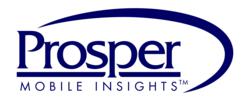 While BlackBerry Owners are the most likely to be considering purchasing a vehicle and a vacation by the end of the year, iPhone Owners are likely to be computer purchasers.
Worthington, OH (PRWEB) September 23, 2011
In a weak economy, poor management decisions are even more likely to lead to customer attrition. Therefore in a competitive market such as the mobile industry, it's critical for executives to know their consumers. In a recent Prosper Mobile Insights™ analysis of the Media Behavior and Influence Study (June 2011, N=25,150), key differences were discovered in app usage and purchase intentions among smartphone owners. Further, occupation and income appear to be factors.
The most popular devices among Adults 18+ are Android™/Droid phones (16.5%), iPhones (13.3%) and BlackBerry devices (12.2%), and each Smartphone Owner is unique.
The majority of each of these Smartphone Owners downloads apps to a mobile device. iPhone (85.0%) and Droid (84.0%) Owners are the most likely to download apps, followed by BlackBerry Owners (59.5%). Overall, games are the most popular type of app used on smartphones, followed by social media and radio apps:
Apps Used on Smartphones (by iPhone, Droid and BlackBerry Owners)
Games: 76.1%
Social Media: 58.2%
Radio: 38.1%
Movies/TV Shows: 27.8%
Other Entertainment (non-games): 25.7%
Retailer: 22.3%
Other: 12.4%
Source: Media Behavior and Influence Study, JUN-11
Compared to other Smartphone Owners, fewer BlackBerry Owners (64.0%) use game apps. iPhone Owners (82.1%) are the most likely to play games on their phones, followed closely by Droid Owners (79.5%). iPhone Owners (38.1%) are also very likely to use Movie/TV Show apps while BlackBerry Owners (24.3%) are least likely to use these entertainment apps. More iPhone Owners (30.7%) utilize retailer apps compared to Droid Owners (20.5%) and BlackBerry Owners (18.1%).
Looking at the occupations of these Smartphone Owners can explain their choice in apps. More BlackBerry Owners are business owners (8.9%) and hold professional/managerial positions (48.5%) compared to other Smartphone Owners and the general population. iPhone Owners, who are big on entertainment apps, have the highest percentage of students (8.5%) followed by Droid Owners (8.3%). Only 6.1% of BlackBerry Owners are students.
Likely related to occupation, BlackBerry Owners have the highest average income at $84,439. Those owning iPhones (and who use retailer apps most often) follow closely with an average income of $82,683. Those owning Android phones have a lower average income, $73,607, but this is still well above the average of all consumers ($65,128).
These higher-income Smartphone Owners are also more likely than the general population to be planning major purchases through the end of the year, particularly in areas of travel, electronics and automobiles. While BlackBerry Owners are the most likely to be considering purchasing a vehicle and a vacation by the end of the year, iPhone Owners are likely to be computer purchasers:
Planned Purchases in the Next 6 Months (As of June 2011)
Vacation Travel
BlackBerry Owners: 28.2%
iPhone Owners: 28.0%
Droid Owners: 26.4%
Adults 18+: 22.6%
Computer
iPhone Owners: 22.5%
BlackBerry Owners: 21.6%
Droid Owners: 21.2%
Adults 18+: 16.0%
Vehicle
BlackBerry Owners: 20.6%
iPhone Owners: 18.6%
Droid Owners: 16.2%
Adults 18+: 12.2%
For this data and other key insights on how consumers are using smartphones and tablets, you can download the Prosper Mobile Android Tablet App or access the online Prosper Mobile InsightCenter™.
Prosper Mobile is the first in a series of Android tablet apps and InsightCenters to be released this year. Upcoming products include Hispanic Consumer Insights, Chinese Consumer Insights, Auto Purchasers and American Pulse Insights.
About Prosper Mobile Insights™
Prosper Mobile Insights™ provides companies with a comprehensive view of how consumers are using mobile devices including smartphones and tablets. The insights illustrate how consumers are engaging with digital media, including ownership, purchase intentions, activities, usage, service, influence, and ultimately how new technologies are reshaping consumers' lives. Prosper Mobile Insights™ is a trademark of Prosper Business Development. http://www.prospermobile.com
Contact:
Chrissy Wissinger
chrissy(at)goprosper(dot)com
(614) 846-0146
Android is a trademark of Google Inc.
###