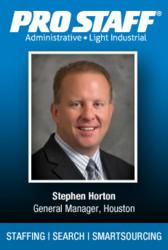 This recognition has been made possible by the outstanding work of the Pro Staff Houston team members who are building strong collaborative relationships with area businesses
Houston, TX (PRWEB) January 05, 2012
Pro Staff, a division of the Atterro Human Capital Group, proudly announces its office in Houston, Texas, has been ranked No. 2 among the top temporary placement firms by the Houston Business Journal.
Pro Staff joined the list for the first time, based on its 3,241,652 billable hours in 2010.
Employer Flexible was No. 1 with 4,086,165 billable hours, followed by Pro Staff. Burnett Staffing Specialists, Corestaff and Magnum Staffing Services rounded out the top five on the Journal's list of 25 temporary placement firms in Houston.
"This recognition has been made possible by the outstanding work of the Pro Staff Houston team members who are building strong collaborative relationships with area businesses," states Greg Jensen, Vice President of Pro Staff. "I congratulate them as well as the exceptional Pro Staff associates they have recruited and successfully placed."
Stephen Horton, general manager of the Pro Staff Houston office, adds, "I am proud of the hard work and dedication displayed by everyone on the Houston Pro Staff team. We feel inspired as we begin 2012 and set our sights on becoming Houston's No. 1 staffing and direct hire firm."
The complete lists of top temporary and direct hire placement firms appear exclusively in the Dec. 9th print edition of the Houston Business Journal on pages 24 and 26.
Pro Staff is a division of the Atterro Human Capital Group. Atterro offers interim staffing, executive search and smartSourcing services to national and global customers. These services are delivered by experienced industry professionals utilizing the latest research, recruiting technology and assessment tools. Atterro offers its services through its four specialty brands—Digital People Creative and Marketing, Hunter Hamilton Finance and Accounting, Pro Staff Administrative and Light Industrial, and Ware Technology Services for engineering and information technology. Learn more at Atterro.com.
Pro Staff Houston locations:
7840 N Sam Houston Parkway, Suite 150
Houston, TX 77064
Phone: (281) 890-2800
1800 West Loop South, Suite 1780
Houston TX, 77027
Phone: (713) 621-6226
# # #