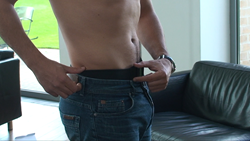 The side-effects free Dr. Allen's therapeutic device reduces BPH symptoms gradually, helping men to feel better without additional stress from adverse side effects.
London, UK (PRWEB) April 06, 2013
Dr. Frederick Ho in the article 'Some medications can induce vision problems' in the Florida Today, April 3, 2013, has declared that drugs used in the treatment of benign prostate hypertrophy, such as Tamusolin (Flomax), Alfuzosin (Uroxatral), Doxazosin (Cardura) and Terazosin (Hytrin) have been linked to floppy iris syndrome that increases the risk of cataract complications. Nowadays, men can prevent this problem by treating BPH with Dr. Allen's Devices which reduces prostate enlargement naturally, Fine Treatment reveals.
Moreover, Dr. Frederick Ho warns that urology patients being treated for erectile dysfunction with drugs like Viagra (sildenafil), Cialis (tadalafil) or Levitra (vardenafil) need to keep an eye out for changes in color perception, increased light sensitivity and blurred vision. Vision loss has been reported, but a causal relationship between these drugs and an ischemic event in the eye has yet to be proven.
There are other serious complications when men stays on BPH drugs, for instance, Professor of Biochemistry and Urology at the Boston University School of Medicine, A. Traish said in a USA Today article: the side effects are negated once the medicine is ceased but few patients taking Propecia or Avodart experience sexual side effects which are irreversible in nature.
According to the National Institutes of Health (NIH) with reference to 'Prostate Enlargement: Benign Prostatic Hyperplasia', BPH medications do not prevent surgery: because drug treatment is not effective in all cases, researchers in recent years have developed a number of procedures that relieve BPH symptoms which are less invasive than conventional surgery. All of these procedures, however, cause inevitable side effects.
Dr. Allen's Device for Prostate Care works 24 hours a day and creates an ideal environment for blood to pass through capillaries in the affected prostate tissue. The improved blood flow cleanses the prostate and over time allows the body to repair itself through its own restorative mechanisms. Please watch a short informative video: http://www.youtube.com/watch?v=V5xidswhxJM.
More patients' feedback are available on the medical evidence page at the Fine Treatment website. For instance, Ahmed from Middle East in February 16, 2013 has stated, "Dear doctor Allen, before wearing the device the prostate measure 75 gm, and the symptoms were: difficulty starting to urinate, weak stream, dribbling at the end of urination. After wearing the device for 6 months the prostate measure is 40 gm only, and the previous symptoms has subsided. Now I am very good."
"A protection of men's well-being at any age from common complications resulting from drugs used for enlarged prostate is an important matter," says Dr. Simon Allen. "The side-effects free Dr. Allen's therapeutic device reduces BPH symptoms gradually, helping men to feel better without additional stress from adverse side effects."
For more details visit Fine Treatment at http://finetreatment.com/bph-treatment-prostate-enlargement.
About Dr. Simon Allen and Fine Treatment:
Dr. Simon Allen is a highly experienced medical professional. His specialty is in the internal medicine. He has treated a wide range of chronic diseases, including patients after a heart attack, with kidneys problems, including kidney stones disease, prostate and spine conditions, as well as metabolic disorders. Fine Treatment exclusively offers Dr Allen's devices for chronic prostatitis and BPH treatment, coronary heart disease, dissolving kidney stones, as well as back pain and sciatica relief.