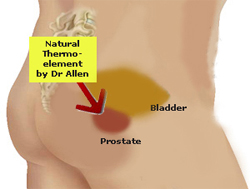 Dr. Allen's device while is placed to the coccyx area sends the naturally emitted heat through tissues of the body to the prostate terminating BPH.
London, UK (PRWEB) July 23, 2012
New Thermobalancing Therapy for benign prostatic hyperplasia (BPH) helps men to ease the symptoms of enlarged prostate without adverse side effects and avoid unsafe prostate surgeries, Fine Treatment reveals. Regarding the frequency of urination, i.e. one of the main BPH symptoms, the users of Dr. Allen's device note that urination dysfunction eases firstly in daytime within 3-months and later at night. Dr. Allen's therapeutic device helps to improve the condition of a prostate gland gradually with a proven effect over time.
"The Thermobalancing Therapy is considered as safe alternative to serious BPH drugs and surgical options", says Dr. Mohamed S. Awad MD, from Egypt. "Firstly, this modality has no serious adverse effects. Secondly, it works continuously on the prostatic gland. Thirdly, it doesn't affect the sexual life of the patient. Therefore, I think that this natural option for the treatment of enlarged prostate should be taken seriously and I am confident while recommend it to my patients."
Several testimonials confirm that this new therapy maintains prostate enlargement well. Please see, for instance, http://www.youtube.com/watch?v=dCFy_jZgCLw.
On the other hand, a surgery no matter what one calls it, i.e. transurethral resection of the prostate (TURP), or transurethral incision (TUIP), or laser therapy which is in fact not a therapy but a surgery. Just like other surgical procedures, a laser surgery alters, removes, replaces and reshapes human tissue. Any kind of surgery is dangerous, even if done professionally, as various complications may follow.
According to the National Institute of Health (NIH), since a surgery for BPH leaves behind a good part of the gland, it is still possible for prostate problems, including BPH, to develop again. Sometimes a scar tissue resulting from surgery requires treatment in the years after surgery. Rarely, the opening of the bladder becomes scarred and shrinks, causing obstruction.
"Enlarged prostate can be maintained with new therapy naturally, so there have to be exceptional circumstances to accept any surgery which may cause adverse side effects," says Dr. Allen. "Dr. Allen's device while is placed to the coccyx area sends the naturally emitted heat through tissues of the body to the prostate terminating BPH."
Dr. Allen's Device for Prostate Care treats enlarged prostate gradually. Read more at http://www.finetreatment.co.uk/prostatetreatmentbph/prostatitistreatment.html.
About Dr. Simon Allen and Fine Treatment:
Dr. Simon Allen is a highly experienced medical professional. His specialty is in the internal medicine and cardio-vascular field, and he has treated patients after a heart attack, with kidneys problems, including kidney stones disease, prostate and spine conditions. Fine Treatment exclusively offers Dr Allen's devices for chronic prostatitis and BPH, coronary heart disease, dissolving kidney stones, as well as back pain treatment and sciatica relief.