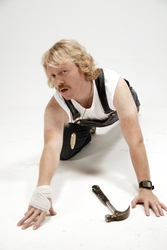 I was honoured when the Everyman charity people asked me to be their ambassador for TacheBack. It's been a real highlight in my 'tache's long and illustrious career. I really hope that men will grow a 'tache like their uncle Keith and raise gibbo-zillions of squids for research into these cancers that affect men
Bellingham, WA (PRWeb UK) August 13, 2009
TV personality Keith Lemon is starring in a series of quirky web videos out today to support TacheBack - the fundraiser asking men to grow a 'tache in return for cash in September. All money raised funds research into prostate and testicular cancers by Everyman - the UK's leading male cancer campaign - which launched TacheBack in 2003.
The first two videos, available to view on Tacheback.com, include 'A Guide to Being a Man' by Keith Lemon which provides his unique tips on "what it is to be a real man" and 'Keith's message for the Tachettes' which encourages women to get their men signed up to the hairy task.
Those who participate in TacheBack, sponsored by Remington, will receive weekly encouragement videos throughout September from Keith Lemon, star of ITV2's Celebrity Juice and Keith Lemon's Very Brilliant World Tour. Despite his proud status as 'Businessman of the Year 1993', Keith claims fronting TacheBack is a career highlight!
"I was honoured when the Everyman charity people asked me to be their ambassador for TacheBack. It's been a real highlight in my 'tache's long and illustrious career. I really hope that men will grow a 'tache like their uncle Keith and raise gibbo-zillions of squids for research into these cancers that affect men", said Keith.
The 'home-grown' fundraiser has raised around £1 million since it began seven years ago, with a target this year of £1.5 million.
Campaign manager, Sarah Healy said, "TacheBack is a great campaign because it allows men to get involved in fundraising for Everyman with a tongue-in-cheek approach. It doesn't require the fitness needed to do a run - all men have to do is simply down their razors for a month and get sponsored to sprout some upper lip hair. We think perfectly-'tached Keith Lemon will provide the inspiration men need to get growing and raise lots of cash for male cancers!'
TacheBack's official grooming partner, Remington, is on hand to ensure participants keep their 'taches suitably preened with their range of grooming products including the 10-in-1 PG520 Navigator.
Prostate cancer kills 10,000 men in the UK each year which is one man every hour, while testicular cancer is the most common cancer in men aged 15-44. All money raised funds research into these diseases at Europe's only dedicated male cancer research centre - the Everyman Centre which is part of The Institute of Cancer Research.
To take part in TacheBack and to view the videos, please visit http://www.tacheback.com.
About The Everyman Male Cancer Campaign:
Everyman is the UK's leading male cancer campaign which raises awareness and funds research into testicular and prostate cancer. Everyman is dedicated to improving the survival rate of men with testicular cancer by raising awareness about the early symptoms. Its scientists have also led groundbreaking research into new treatments for prostate cancer. Research takes place at The Everyman Centre - Europe's first and only centre dedicated to male cancer research. The Everyman Centre is located within Europe's leading cancer organisation, The Institute of Cancer Research. The ICR is marking its centenary in 2009, celebrating 100 years of world leading research into cancer prevention, diagnosis, treatment and care. For more information visit http://www.everymancancer.org
Notes to Editor:

Prostate cancer has overtaken lung cancer to become the most common cancer in men, affecting more than 34,000 men every year in the UK. One man dies of prostate cancer in the UK every hour, a total of about 10,000 men a year.
Testicular cancer is the most common form of cancer in men aged between 15 and 44, with about 2,000 cases a year in the UK. Incidence is increasing dramatically - by almost four-fold in the last 50 years. But thanks to advances made at Everyman, testicular cancer is 99 per cent curable if caught early, and with treatment the overall cure rate is 97 per cent.
Remington
Having launched the world's first ever electric shaver over 70 years ago, Remington is an expert in shaving and grooming. Always at the cutting-edge of technology, Remington's wide range of next-generation electricals boasts superior results every time. For more info on Remington products check out http://www.remington-europe.com.
For high resolution images and other enquiries, please contact:
Tatjana Trposka - 020 7153 5312
# # #