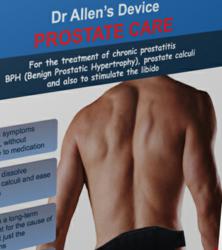 When placed to the coccyx area, Dr. Allen's therapeutic device sends natural warmth through the tissues of the body to the prostate terminating BPH.
London, UK (PRWEB) July 12, 2012
Unlike different prostate removal procedures and long-term courses of medications which are risky as can affect men's sexual function and cause other unpleasant symptoms, new Thermobalancing Therapy is free from side effects and, by improving the prostate gland's condition, may increase potency and libido, Fine Treatment reveals. Dr. Allen's natural device helps to restore the tissue of the enlarged prostate by increasing the blood circulation at the capillary level.
Dr. Allen's device for prostate treatment has a gradual healing impact on the enlarged prostate. The video: http://www.youtube.com/watch?v=dCFy_jZgCLw shows medical documents describing how this natural therapy has reversed benign prostatic hyperplasia.
Natural prostate treatments have been widely discussed and applied to different prostate conditions. One such treatment is magnetic therapy. The article titled 'How a magnet can help men with a flow problem' by Pat Hagan in Daily Mail notes that Dr. Jon Rees, spokesman for Prostate UK, said: 'Any device that means men don't have to wear an external catheter would be fantastic news.' So, it is great news that we now have Dr. Allen's therapeutic device that can help. Nino Alinsub, Medical Technologist from the Philippines states: "Before Dr. Allen's device for Prostate Care or Thermobalancing Therapy has been introduced, the patient will just have to calmly accept the fact that it's drugs, surgery or bust!"
Of course, urologists are constantly trying to come up with less traumatic medications and prostate removal procedures for the treatment of benign prostatic hyperplasia (BPH) but all of them are still unsafe. This is why the National Kidney & Urologic Diseases Information Clearinghouse (NKUDIC) suggests having the "watchful waiting" stage of BPH: "If your symptoms don't bother you too much, you may choose to live with them rather than take pills every day or have surgery. But you should have regular checkups to make sure your condition isn't getting worse. With watchful waiting, you can be ready to choose a treatment as soon as you need it."
"Enlarged prostate can now be treated with the new therapy naturally protecting men's wellbeing from side effects associated with BPH drugs and prostate removal procedures," says Dr. Allen. "When placed to the coccyx area, Dr. Allen's therapeutic device sends natural warmth through the tissues of the body to the prostate terminating BPH."
Read more at http://www.finetreatment.co.uk/prostatetreatmentbph/prostatitistreatment.html.
About Dr. Simon Allen and Fine Treatment:
Dr. Simon Allen is a highly experienced medical professional. His specialty is in the internal medicine and cardio-vascular field, and he has treated patients after a heart attack, with kidneys problems, including kidney stones disease, prostate and spine conditions. Fine Treatment exclusively offers Dr Allen's devices for chronic prostatitis and BPH, coronary heart disease, dissolving kidney stones, as well as back pain treatment and sciatica relief.