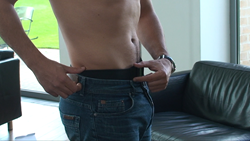 Dr. Allen's therapeutic device treats the prostate safely, helping men to maintain a normal life and, moreover, avoid unnecessary complications in the future.
London, UK (PRWEB) April 01, 2013
The study discussed in the article 'Older Men's Health Concerns', in Medical News Today, March 12, 2012, was led by Dr. Cara Tannenbaum, Geriatrician and the Michel Saucier Endowed Chair in Geriatric Pharmacology, Health and Aging at the Institut Universitaire de Gériatrie de Montréal (IUGM), affiliated with the Université de Montréal. It showed that 63% of men in the study were concerned about the nasty side effects of medications they are prescribed. This finding is in line with a large number of Fine Treatment's customer enquiries seeking to try Dr. Allen's treatment method, i.e. the Thermobalancing therapy. Indeed, Dr. Allen's therapeutic devices are safe and effective for most common chronic diseases, such as prostate enlargement, and typically allow their users to come off long-term medication.
Dr. Cara Tannenbaum is shocked to discover the disparity between what the 2,325 men in her study want and what they appear to be receiving from health care professionals. Regarding prostate problems, she writes: "Incontinence post-prostatectomy is becoming more frequent and has a devastating impact on a man's self-esteem and sexual function."
The article on PVP (Photo-Selective Vaporization of the Prostate), of January 10, 2013, in Melodica-net, answers the 'Why is it done?' question in a simple way: PVP or Laser surgery - Greenlight PV is recommended for patients who have urination symptoms resulting from benign prostatic enlargement such as poor urination, frequency of urination, night time urination more than two times/night. However, the answer to 'Is it fine to have it done?' becomes more complex when the frequency and severity of possible side effects are recognized.
Patient reports on prostate removals with laser surgeries are alarming. For instance, a message published in Men's-Health Forum on Retrograde Ejaculation after Prostate Surgery, of 5 June 2011, shares a patients grief, 'I would rather get up 4 times a night and still be able to ejaculate rather than get up twice nightly and have permanent retro'. Another message says, "I'm 44 male, 8 months ago I had Holap – laser procedure for BPH and still now I'm living a nightmare. Do not touch your prostate. The annoying symptoms you have now are nothing compared to what you have after surgery."
Dr. Allen's therapeutic device helps to reduce the size of the prostate naturally. Dr. Allen's Device for Prostate Care works 24 hours a day, when applied, and creates an ideal environment for blood to pass through capillaries in the affected prostate tissue. The improved blood flow cleanses the prostate and over time allows the body to repair itself through its own restorative mechanisms. Please watch a short informative video: http://www.youtube.com/watch?v=V5xidswhxJM.
"The shocking experiences after prostate laser surgeries men share on different forums are highly concerning. Any prostate surgery ought to be considered only when a patient's condition is life-threatening. In other cases, the side effects outweigh the benefits", says Dr. Simon Allen. "Dr. Allen's therapeutic device treats the prostate safely, helping men to maintain a normal life and, moreover, avoid unnecessary complications in the future."
For details, visit Fine Treatment at http://finetreatment.com/bph-treatment-prostate-enlargement.
About Dr. Simon Allen and Fine Treatment:
Dr. Simon Allen is a highly experienced medical professional. His specialty is in the internal medicine. He has treated a wide range of chronic diseases, including patients after a heart attack, with kidneys problems, including kidney stones disease, prostate and spine conditions, as well as metabolic disorders. Fine Treatment exclusively offers Dr. Allen's Devices for chronic prostatitis and BPH treatment, coronary heart disease, dissolving kidney stones, as well as back pain and sciatica relief.