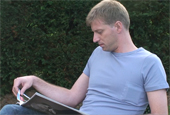 Fine Treatment gives people all over the world a chance to try the natural treatment with Dr. Allen's Devices and enjoy their life in full.
London, UK (PRWEB) February 26, 2013
Cardiovascular diseases are the leading causes of disability, constraining affected persons in working and enjoying family activities, states the Centre of Disease Control and Prevention (CDC). Addressing this important issue, Fine Treatment recommends Dr. Allen's Device for the natural improvement of blood circulation in the heart gradually strengthening its muscle.
February has been named the American Heart Month in a bid to raise the profile of the alarming reality. According to the data published by CDC on 02/15/2013, heart disease is a major public health problem in the United States. Every year, approximately 715,000 persons in the U.S. have a heart attack, and approximately 600,000 die from heart disease. Heart disease is the leading cause of death for U.S. men and women, accounting for 1 out of every 4 deaths each year.
Heart problems also inhibit sexual activity, with major implications to general health and well-being. Emax-Health posts an article on 'Why Death Follows Bad Sex with Some Men', dated 02/14/2013: "In a recent study published in the online journal PLoS Medicine, researchers have found that men reporting poor performance resulting in bad sex due to erectile dysfunction (ED) have much more to worry about than just their penis―their heart."
It is thus important to improve the condition of the heart muscle in the first place. The Mayo Clinic raises the issue as well: 'Erectile dysfunction — difficulty maintaining an erection sufficient for sex — can be an early warning sign of heart problems. Understanding the connections between the two may help you get treatment before heart problems become serious. Likewise, if you have heart disease, getting the right treatment may help with erectile dysfunction.'
Several testimonials confirm that the treatment developed by Dr. Simon Allen is helpful for different internal diseases. The Oxford Innovation Centre has recorded a video testimonial discussing a treatment cardiovascular disease with Dr. Allen's Thermobalancing therapy: http://www.youtube.com/watch?v=Zr2euPQYztQ.
On a separate but related note, another Dr. Allen's Device, designed for prostate treatment, creates an ideal environment for blood to pass through capillaries in the affected prostate tissue that cleanses enlarged prostate and over time improves libido and potency. You can watch a short informative video about this device here: http://www.youtube.com/watch?v=V5xidswhxJM.
A good sex life is known to be important for the overall well-being and quality of life, giving another incentive for people to take care of their heart at first signs of trouble. A BMJ article on "Sex, health, and years of sexually active life gained due to good health" of 2010, establishes that sexual activity, quality of sexual life, and interest in sex are positively associated with health in middle age and later life. Sexually active life expectancy is longer for men, but men lose more years of sexually active life as a result of poor health than women.
"Dr. Allen's Device provides a stand-alone coronary treatment improving the condition of the heart muscle, enhancing well-being and sexual function of its users", says Dr. Simon Allen. "Fine Treatment gives people all over the world a chance to try the natural treatment with Dr. Allen's Devices and enjoy their life in full."
About Dr. Simon Allen and Fine Treatment:
Dr. Simon Allen is a highly experienced medical professional. His specialty is in the internal medicine and cardio-vascular field. He has treated a wide range of chronic diseases, including patients after a heart attack, with kidneys problems, including kidney stones disease, prostate and spine conditions, as well as metabolic disorders. Fine Treatment exclusively offers Dr. Allen's Devices for BPH treatment and chronic prostatitis, coronary heart disease, dissolving kidney stones, as well as back pain and sciatica relief.