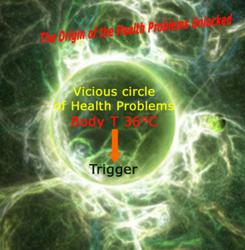 I am glad that patients can now benefit from treating these complex conditions naturally without negative side effects of other methods.
London, UK (PRWEB) January 01, 2012
Dr. Simon Allen founder of Fine Treatment has developed a new theory of capillary activity which explains the cause of the internal chronic diseases, such as prostate enlargement and heart disease. According to the National Health Institute (NIH) the cause of prostate enlargement has been unknown, and the National Heart Lung and Blood Institute (NHLBI) suggests that coronary heart disease (CHD) starts when certain factors damage the inner layers of the coronary arteries but the actual cause of atherosclerosis has been unknown as well. This is why Dr Allen's research is a breakthrough in medical theory and also allows new treatment for chronic disease to be used.
Dr. Simon Allen, in his discovery the Origin of Disease, underlines that while the internal chronic diseases of various organs are different they all have the same root that originates at the level of capillaries. These tiny blood vessels can expand spontaneously in response to unfavorable conditions. This growth of the tissue increases the pressure inside the organ, impairing its proper functioning and is the actual cause of its disease.
For instance, a problem in a prostate gland leads to continued prostate enlargement, as a prostate doesn't have a strong capsule around it. In cases of coronary heart disease, the heart has a rigid capsule so the development of this disease leads to greater pressure inside the heart with the consequent heart attack. In order to stop the progression of the internal chronic diseases the Thermobalancing Therapy has been launched.
"The Thermobalancing Therapy is highly effective because it addresses the actual cause of diseases", says Dr. Simon Allen. "I am glad that patients can now benefit from treating these complex conditions naturally without negative side effects of other methods."
Several video interviews featuring Fine Treatment have been recently posted on youtube showing the users sharing experiences of treatment of their prostate, heart and kidney stones conditions with the Thermobalancing Therapy.
In brief, the theory of capillary activity explains the causes of various, seemingly unrelated, internal chronic diseases. And this discovery enables for a new natural therapy to be used for heart, prostate and other medical problems. Read more at:
http://www.finetreatment.co.uk/capillaries-activity.html.
About Dr. Simon Allen and Fine Treatment:
Dr. Simon Allen is a qualified medical doctor for 40 years and has established Fine Treatment that offers natural devices to dissolve kidneys stones, treatment for chronic prostatitis and prostate enlargement, sciatica, upper and lower back pain relief, for a coronary heart disease treatment and recovery after a heart attack.
###