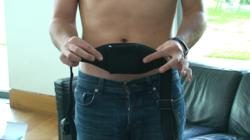 Dr. Allen's device for prostate works continuously and cleanses a prostate gradually and, moreover, cannot harm.
London, UK (PRWEB) March 31, 2012
Fine Treatment recommends starting new Thermobalancing Therapy in the early stages of benign prostatic hyperplasia (BPH) without relying on medications or surgeries. Of course, some men opt to making lifestyle changes that help relieve symptoms of BPH but the main matter for the prostate recovery is improving of the blood circulation inside a prostate. Only blood can clean a prostate naturally and reverse the process of prostate enlargement.
Dr. Allen's therapeutic device which enables the Thermobalancing Therapy treats a prostate by maintaining the constant temperature in it with the help of a thermo-element which is made from a mixture of natural ingredients. There is no battery or other type of heating are involved. As a result of this therapy the swelling of prostate gland decreases that allows blood to wash out the unnecessary prostate tissue. Several testimonials confirm that prostate treatment developed by Dr. Simon Allen relieves symptoms of a prostate problem helping patients to recover from diseases, see for instance, http://www.youtube.com/watch?v=V5xidswhxJM.
There is no other treatment that is focused on improving the blood flow inside a prostate over a continuous period of time. Even in the case of a prostate physiotherapy, including prostate massage, it works only for a short period of time leaving the prostate "unattended" between the procedures and thus permitting the problem to worsen, i.e. BPH to progress.
According to the National Institute of Diabetes and Digestive and Kidney Diseases (NIDDK), "because drug treatment is not effective in all cases, researchers in recent years have developed a number of procedures that relieve BPH symptoms but are less invasive than conventional surgery." However, after any surgical procedure, even a less invasive, patients are likely to experience one or a number of side effects.
"New Thermobalancing Therapy is a unique option of prostate treatment that treats an affected prostate gland but not tries to eliminate it to ease of the symptoms," says Dr. Allen. "Dr. Allen's device for prostate works continuously and cleanses a prostate gradually and, moreover, cannot harm."
Dr. Allen's Device for Prostate Care is easy to use. Read more at http://www.finetreatment.co.uk/prostatetreatmentbph/prostatitistreatment.html.
About Dr. Simon Allen and Fine Treatment:
Dr. Simon Allen is a highly experienced medical professional. His specialty is in the internal medicine and cardio-vascular field, and he has treated patients after a heart attack, with kidneys problems, including kidney stones disease, prostate and spine conditions. Fine Treatment exclusively offers Dr Allen's devices for chronic prostatitis and BPH treatment, coronary heart disease, dissolving kidney stones, as well as back pain and Sciatica relief.