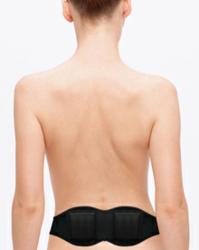 Dr. Allen's therapeutic devices tackle the cause of sciatica, back pain and enlarged prostate at the capillary level and are therefore highly effective.
London, UK (PRWEB) July 25, 2012
Fine Treatment recommends new therapy for chronic lower back pain, including sciatica, and benign prostatic hyperplasia (BPH) as the use of painkillers and drugs does not cure these chronic conditions, while exposing the users to further damage from medications. Short-term treatments with medications might help to reduce the symptoms of these troubling health problems but can cause side effects if taken in the long-run. For instance, a article in BBC Health entitled Painkillers states: like all medicines, painkillers can have side effects: ulcers, damage of kidneys, liver, headache, depression and others.
"Depression is common in chronic pain patients, but people who think chronic pain is 'all in the head' are not being realistic," says Roger Chou, MD, associate professor of medicine at Oregon Health & Science University in Portland. So it means that if a health problem is to be treated correctly, it is necessary to deal with its cause.
"Internal chronic diseases such as lower back pain or BPH persist over time due to the spontaneous growth of the capillary net. Initiated by the body itself to repair an acute stage of a health problem, these extra capillaries become an additional tissue inside the affected area creating internal pressure within the affected organ, and slowly developing a chronic problem and its symptoms," says Dr. Simon Allen. "Dr. Allen's therapeutic devices tackle the cause of sciatica, back pain and enlarged prostate at the capillary level and are therefore highly effective."
Unlike medications, Dr Allen's device works 24 hours a day locally improving the blood circulation in the affected tissue. You can watch a short video: http://www.youtube.com/watch?v=dCFy_jZgCLw that discusses medical evidence on how this natural therapy has reversed prostate enlargement.
Moreover, Dr. Ralph Saint-Phard, MD, Lincoln Medical and Mental Health Center, USA, has reviewed a sciatica case, saying: "Her doctors couldn't offer much relief, and recommended her to exercise and practice yoga. None of these methods worked, and as a secretary who has to sit for long hours, the pain was unbearable for Leela; and then she heard about a new device and she decided to give it a try. At first, she wore it constantly, even in bed and noticed some relief after two weeks."
Dr. Allen's devices can help with various chronic internal diseases, read more at http://www.finetreatment.co.uk/sciaticatreatment/lowerbackpaintreatment.html
About Dr. Simon Allen and Fine Treatment:
Dr. Simon Allen is a highly experienced medical professional. His specialty is in the internal medicine and cardio-vascular field. He has treated a wide range of chronic diseases, including patients after a heart attack, with kidneys problems, including kidney stones disease, prostate and spine conditions. Fine Treatment exclusively offers Dr Allen's devices for the treatment of BPH and chronic prostatitis, coronary heart disease and to dissolve kidney stones, as well as relieves back pain and sciatica.