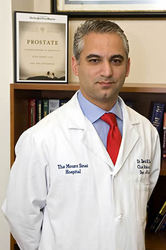 Do I Have to Be Treated? Update on Expectant Management
New York, New York (PRWEB) January 13, 2009
There's no question that three of the most terrifying words in the English language are "You have cancer." For a man, add the word "prostate" and the anxiety level jumps even higher since prostate cancer is the second leading cause of cancer-related death in men. For those who have been, or know someone who has been diagnosed with prostate cancer, there is a great new resource available that explains treatment options and offers support. Dr. David B. Samadi, Chief of Robotics and Minimally Invasive Surgery at Mount Sinai School of Medicine in New York City, has offered to volunteer his time to lead the "Man to Man" community prostate cancer education program at Mt. Sinai Medical Center. It is designed to help men with prostate cancer and their spouses and partners learn about treatment options and gain understanding from the experiences of prostate cancer survivors.
The program begins on January 14, 2009, and will convene every other month at Mount Sinai's School of Medicine. There are a total of six meetings over the course of a year that are free and open to all, regardless of a connection to Mt. Sinai hospital or Dr. Samadi. Each meeting will begin with a presentation on prostate cancer diagnosis, treatments and quality of life issues related to prostate cancer. After the presentation, a prostate cancer survivor participates in a confidential discussion facilitated by a social worker from the American Cancer Society. This discussion is a forum for men and their families to express any and every possible concern or question they may have. Dr. Samadi will be the moderator of each meeting.
The first lecture is on the da Vinci robotic prostatectomy procedure, presented by Dr. David Samadi on January 14, 2009. He will show those present the data from the more than 1,650 robotic prostatectomies he's performed. Dr. Samadi will discuss quality of life concerns, including continence and sexual function after prostate surgery. Mt. Sinai's Dr. Simon Hall will present the following lecture titled, "Do I Have to Be Treated? Update on Expectant Management" on March 17. The third lecture will be presented by Dr. Richard Stock, who is scheduled to discuss radiation treatment, or bracheatherapy, on May 19. All meetings take place at Mount Sinai's School of Medicine from 6-8 PM. The subjects of the remaining lectures have yet to be determined.
According to the American Cancer Society, patient support groups are extremely beneficial to men with prostate cancer and to their partners and families. A cancer diagnosis is scary and is made more so if handled alone. Without this type of support, men often report they feel isolated and that they lack helpful information. David Pulli of the American Cancer Society says, "The camaraderie of the group is really helpful for men who feel frightened and worried and in need of useful information."
This outstanding program is community based, which means the Man to Man Prostate Cancer Education and Support Meetings are open to everyone, including those without insurance. Dr. Samadi feels confident that the Man to Man meetings will make a real difference in people's lives. He hopes they'll create a place where people can ask questions comfortably and get accurate, factual information about prostate cancer, the range of prostate cancer treatments and how to handle some of the controversial issues raised by other physicians in the field. "The goal is to guide the new patients and take a lot of emotional stress out of their lives by connecting them with other patients who have already gone through the surgery."
The very first Man to Man meeting was convened by a prostate cancer survivor named James Mullen in 1990. Mr. Mullen was motivated to get people together because he felt he lacked all the information he needed to make a decision about his prostate cancer treatment. He wanted to share life strategies and get help with handling the difficult side effects of prostate cancer with other men, so he formed a patient support group. The American Cancer Society later teamed up with Mullen to develop a formalized program called, "Man to Man Prostate Cancer and Support Meetings." In addition to Mt. Sinai, New York University holds Man to Man meetings, as does the American Cancer Society at their offices in New York City.
Man to Man Prostate Cancer and Support Meetings will be held at the Mount Sinai School of Medicine's Hatch Auditorium, 1468 Madison Avenue, in the Guggenheim Pavilion on the 2nd Floor. For more information, please contact Alison Snow at Mount Sinai: (212) 241-7805, or David Pulli at the American Cancer Society: (212) 237-3843.
About David B. Samadi, M.D.:
David B. Samadi, MD, is a board-certified urologist and Chief of Robotics and Minimally Invasive Surgery at Mount Sinai School of Medicine in New York City. He is one of the most experienced da Vinci surgeons in the world. Dr. Samadi is one of the only surgeons in the Unites States to have completed two fellowships: one in oncology at Memorial Sloan Kettering Cancer Center in New York, and the other in laparoscopy at Henri Mondor Hospital in France. Dr. Samadi not only treats prostate cancer, but kidney and bladder cancer as well, using minimally invasive surgical procedures for all urologic cancers.
To date, Dr. Samadi has performed more than 1,650 da Vinci robotic surgeries. He has already completed nearly 765 robotic operations since his arrival at Mt. Sinai Medical Center just over a year ago. Dr. Samadi has proctored and taught urologists worldwide about the endopelvic fascia sparing robotic prostatectomy procedure. Mt. Sinai's robotic surgery program, headed by Dr. Samadi, is unique in its ability to combine the advanced technology of robotics with the expertise of open and laparoscopic skills.
To contact Dr. David Samadi, please call 1-888-Robot10 (1-888-762-6810), or visit his website: http://www.RoboticOncology.com.
###