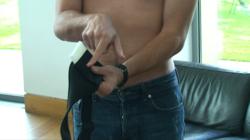 Dr. Allen's therapeutic device reduces BPH symptoms gradually but without adverse side effects.
London, UK (PRWEB) September 15, 2012
Every single day yet another man expresses grief over sex problems after enlarged prostate (BPH) surgery, while new Dr. Allen's therapeutic device helps to terminate prostate enlargement progression naturally, declining the necessity of prostate removal procedures, states Fine Treatment. A surgery does not treat prostate but simply removes at least a part of it causing inevitable side effects.
Reverse ejaculation, also known as retrograde ejaculation, occurs when, at orgasm, the semen is forced back into the bladder rather than through the urethra and out the end of the penis.
Many men get stressed after a prostate surgery and some of them share their frustration on Men's-Health forum on Retrograde Ejaculation after Prostate Surgery. For instance, a message posted by Raja on 29 December 2011 says, "I was misled by my doctor in 2009. Expected one thing and was incontinent for 2 years after TURP. No warning from the doctor. No preparation. Impotency at times followed a few months after the surgery. No more ejaculation. There is much more to describe, but please do your own research, and talk to those who have gone through this." Or posted on 2 October 2011 another one says, "I'm 44 male, 8 months ago I had Holap operation for BPH and still now I'm living a nightmare. Do not touch your prostate. The annoying symptoms you have now are nothing compared to what you have after surgery."
Contrary to surgeries, new Thermobalancing therapy not only caters for men's sex life, but also helps to prolong it by increasing the blood supply to the pelvic region, says Dr. A. Raza, physician in a care hospital in Lahore, Pakistan.
Dr Allen's device for prostate care cleanses the prostate gland by improving blood circulation in the affected area and helps men to keep enjoying their life over time. A video testimonial recorded by the Oxford Innovation Centre demonstrates how to use the device and its benefits: http://www.youtube.com/watch?v=V5xidswhxJM.
"A protection of men's well-being from invasive prostate procedures and associated sexual problems is an important issue," says Dr. Simon Allen. "Dr. Allen's therapeutic device reduces BPH symptoms gradually but without adverse side effects."
Read more about Dr. Allen's therapeutic device for prostate care at http://www.finetreatment.co.uk/prostatetreatmentbph/prostatitistreatment.html.
About Dr. Simon Allen and Fine Treatment:
Dr. Simon Allen is a highly experienced medical professional. His specialty is in the internal medicine and cardio-vascular field, and he has treated patients after a heart attack, with kidneys problems, including kidney stones disease, prostate and spine conditions. Fine Treatment exclusively offers Dr. Allen's devices for the treatment of prostate, including chronic prostatitis and BPH, coronary heart disease, dissolving kidney stones, as well as upper and lower back pain relief and sciatica treatment.