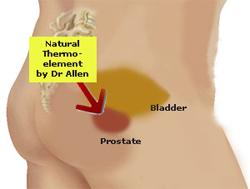 Dr. Allen's therapeutic device cleanses the prostate gland from unnecessary tissue improving potency and libido.
London, UK (PRWEB) September 19, 2012
Fine Treatment offers new Dr. Allen's device for enlarged prostate (BPH) that helps to protect men from problems caused by treating this condition with potentially harmful BPH medications exposed in recent reports. This treatment has no side effects, contrary to BPH drugs which may harm. For instance, changes to the drug label of Finasteride or Propecia have been proposed by the Food and Drug Administration (FDA) as adverse side effects -- such as sexual dysfunction, erectile dysfunction, male infertility and breast enlargement -- may follow, reveals Sokolove Law, September 12th, 2012.
According to the National Institutes of Health (NIH), "Sometimes a man may not know he has any obstruction until he suddenly finds himself unable to urinate at all. This condition, called acute urinary retention, may be triggered by taking over-the-counter cold or allergy medicines."
It is common for a man to panic after experiencing acute urinary retention and so starting to take prostate drugs for the rest of his life. Is it really necessary? A review published by The New York Times on 'Common Drug for Prostate Is Ineffective', states: "The first direct comparison of two main drugs approved for treating an enlarged prostate gland, a common condition in older men, has shown that one is no better than a dummy pill or placebo… Proscar offered no more relief than dummy pills in the study that involved more than 1,200 men and lasted a year." Regarding their side effects, it was reported: "Men taking Proscar alone or in combination with Hytrin experienced impotence and decreased sex drive more often than those in the other two groups."
"Prostate enlargement is so common, it's normal and in most men, it does not cause symptoms," said Dr. Christopher Kane, chief of urology at the University of California San Diego's School of Medicine. "About a third of men will ultimately seek treatment, some will seek treatment right away, while others will tolerate symptoms for years."
As prostate enlargement is viewed as a normal ageing-related condition, there is no urgency for a man to stick to a long-term intake of BPH drugs the moment he experiences first symptoms of urinary dysfunction. Medications can now be replaced with the Thermobalancing therapy. Watch a video testimonial recorded by the Oxford Innovation Centre that demonstrates how to use Dr Allen's Device and its benefits: http://www.youtube.com/watch?v=V5xidswhxJM.
"The benefits of the Thermobalancing therapy are obvious as it is effective and natural," says Dr. Simon Allen. "Dr. Allen's therapeutic device cleanses the prostate gland from unnecessary tissue improving potency and libido."
For details, please visit Fine Treatment at
http://www.finetreatment.co.uk/prostatetreatmentbph/prostatitistreatment.html.
About Dr. Simon Allen and Fine Treatment:
Dr. Simon Allen is a highly experienced medical professional. His specialty is in the internal medicine and cardio-vascular field. He has treated a wide range of chronic diseases, including patients after a heart attack, with kidneys problems, including kidney stones disease, prostate and spine conditions, as well as metabolic disorders. Fine Treatment exclusively offers Dr Allen's devices for chronic prostatitis and BPH treatment, coronary heart disease, dissolving kidney stones, as well as lower back pain relief and sciatica treatment.