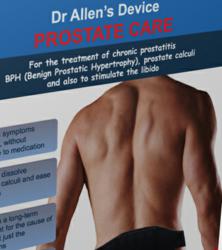 Dr. Allen's therapeutic device relieves BPH symptoms firstly in daytime and later at night by steadily improving the condition of the affected prostate gland.
London, UK (PRWEB) September 28, 2012
As men get older, they need to be careful with a long-term enlarged prostate drugs intake in order to avoid their adverse side effects, warn multiple reports in the press; unlike BPH medications, the Thermobalancing therapy has proven efficacy with no harm to general health, so men can use a new Dr. Allen's Device for prostate treatment in a worries-free way, states Fine Treatment.
A majority of diseases leading to death are preventable naturally, states Dr. D. Samadi in the article titled 'Treating chronic diseases: Medications and side effects', reported in Fox News, September 12th, 2012. For those chronic conditions which cannot be treated with lifestyle remedies, medications are often prescribed. With 133 million Americans having at least one chronic disease, it should not come as a surprise that many of these people are on multiple medications for these conditions. Furthermore, each medication has its own side effects.
'Do These Prostate Drugs Do More Harm Than Good?' article published by The Institute for Natural Healing on 05/4/2012, shows the US Food and Drug Administration reviewed two studies. It found that some drugs for enlarged prostate can protect against some forms of prostate cancer. But the drugs may also increase the risk of a high-grade prostate cancer that spreads rapidly to other organs. And these particular cancer cells are difficult to treat. The drug in question is called Finasteride and it goes by the common names of Proscar and Propecia. Another drug called Avodart (Dutasteride) carries similar warnings. Both of these drugs are 5-alpha reductase inhibitors (5-ARIs). They contain a synthetic compound that blocks the hormone, DHT, which causes the prostate to become enlarged.
Contrary to BPH drugs, Dr. Allen's therapeutic device helps to terminate the process of prostate enlargement and reduce the size of the prostate naturally. Please watch a short video on how Dr. Allen's device has helped its user to reverse BPH: http://www.youtube.com/watch?v=dCFy_jZgCLw.
Dr. Mohamed S. Awad states, "the Thermobalancing therapy is a safe and effective alternative to BPH drugs and surgical options, and I am confident while recommend it to my patients."
Thus the Thermobalancing therapy is effective highly recommended as a natural BPH treatment helping men to terminate prostate enlargement gradually relieving its symptoms.
"Enlarged prostate can be controlled by wearing Dr. Allen's device, so harmful medications given as long-term treatments ought to be accepted only in exceptional circumstances," says Dr. Simon Allen. "Dr. Allen's therapeutic device relieves BPH symptoms firstly in daytime and later at night by steadily improving the condition of the affected prostate gland."
Read more at http://www.finetreatment.co.uk/prostatetreatmentbph/prostatitistreatment.html.
About Dr. Simon Allen and Fine Treatment:
Dr. Simon Allen is a highly experienced medical professional. His specialty is in the internal medicine and cardio-vascular field, and he has treated patients after a heart attack, with kidneys problems, including kidney stones disease, prostate and spine conditions. Fine Treatment exclusively offers Dr Allen's devices for chronic prostatitis and BPH, coronary heart disease, dissolving kidney stones, as well as back pain treatment and sciatica relief.