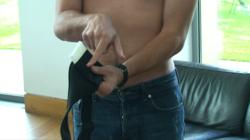 BPH should be treated with Dr. Allen's therapeutic device which helps to gradually ease its symptoms naturally.
London, UK (PRWEB) May 05, 2012
New therapy invented by Dr. Simon Allen is totally safe to use by patients with benign prostatic hyperplasia (BPH) and can be applied as a long-term treatment for the reduction of the size of the enlarged prostate and the symptoms of BPH instead of medications and antibiotics, Fine Treatment reveals. The following video: http://www.youtube.com/watch?v=dCFy_jZgCLw shows medical documents describing how this natural therapy has reversed BPH. There are no quick fix treatments for prostate disorders. Prostate medications are usually prescribed for many years if not for life. Conventional prostate treatment is typically suggested depending upon individual symptoms and the specific type of prostate condition that the patient may suffer from. It is common for doctors to prescribe not one but two medications, and each of them has its own side effects.
In order to avoid complications from BPH drugs, the National Kidney & Urologic Diseases Information Clearinghouse (NKUDIC) suggests having the "watchful waiting" stage of prostate enlargement: "If your symptoms don't bother you too much, you may choose to live with them rather than take pills every day or have surgery. But you should have regular checkups to make sure your condition isn't getting worse. With watchful waiting, you can be ready to choose a treatment as soon as you need it."
Often, however, a man may not even be aware he has BPH until acute urinary retention occurs. Some medical procedures ease this condition within days but the man becomes frightened and starts taking prostate drugs for the rest of his life. Is it necessary? Many sources say "no". For instance, a review published in the The New York Times, titled Common Drug for Prostrate Is Ineffective, states: "The first direct comparison of two main drugs approved for treating an enlarged prostate gland, a common condition in older men, has shown that.... Proscar offered no more relief than dummy pills in the study that involved more than 1,200 men and lasted a year."
"Unlike prostate treatments with potentially harmful BPH drugs, the Thermobalancing Therapy improves the prostate condition without any side effects," says Dr. Simon Allen. "BPH should be treated with Dr. Allen's therapeutic device which helps to gradually ease its symptoms naturally."
For more details, please visit Fine Treatment at http://www.finetreatment.co.uk/prostatetreatmentbph/prostatitistreatment.html.
About Dr. Simon Allen and Fine Treatment:
Dr. Simon Allen is a highly experienced medical professional. His specialty is in the internal medicine and cardiovascular field, and he has treated patients after a heart attack with coronary heart disease, with kidneys problems, including kidney stones disease, prostate and spine conditions. Fine Treatment exclusively offers Dr Allen's devices for coronary heart disease, prostate treatment: chronic prostatitis (CPPS) and BPH, to dissolve kidney stones, for upper and lower back pain and sciatica relief.