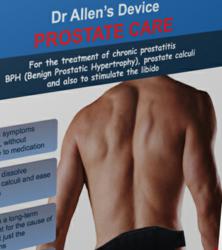 The improvement of the blood circulation inside the prostate is the key factor that terminates BPH and helps men to achieve lasting well-being.
London, UK (PRWEB) May 12, 2012
New Thermobalancing Therapy can terminate benign prostatic hyperplasia (BPH) or slowly progressive enlargement of the prostate, which makes urination difficult and send men trudging to the bathroom many times during the day and night, and also negatively influences their well-being by decreasing sexual drive, Fine Treatment reveals. This condition is widespread, as according to the National Institutes of Health (NIH), the most common prostate problem for men over 50 is prostate enlargement. By age 60, over one-half of men have BPH; by age 85, the number climbs to 90%, according to the American Urological Association (AUA).
BPH puts large percentage of men at a disadvantage to others. An article in the USA Today states, "1 in 3 men age 75 to 95 remain sexually active", while a study published in the Annals of Internal Medicine discloses: "Among sexually active men, 57% were satisfied with their sex life, and 43% wanted to have sex more often, according to the study, which followed men from 1996 to 2009." It should be noted that prostate drugs and surgical procedures only worsen the symptoms of sexual dysfunction, thus, reducing life satisfaction of their users.
So men's well-being can be dramatically increased with the use of Thermobalancing Therapy as an appropriate solution for BPH. The therapy helps to avoid numerous adverse side effects detrimental to patient's quality of life. Dr. Allen's device provides this exceptional prostate therapy protecting the prostate from lasting enlargement. Contrary to other treatment methods, the Thermobalancing Therapy works all the time while the device is applied. By improving the blood circulation inside the prostate tissue, it helps to restore this organ naturally. Oxford Innovation has recorded testimonials that confirm the benefits of this therapy. You can watch a short video here: http://www.youtube.com/watch?v=dCFy_jZgCLw.
"Fine Treatment offers a therapeutic device that can treat prostate enlargement effectively," says Dr. Simon Allen. "The improvement of the blood circulation inside the prostate is the key factor that terminates BPH and helps men to achieve lasting well-being."
Dr. Allen's Device for Prostate Care has no side effects. Read more at http://www.finetreatment.co.uk/prostatetreatmentbph/prostatitistreatment.html.
About Dr. Simon Allen and Fine Treatment:
Dr. Simon Allen is a highly experienced medical professional. His specialty is in the internal medicine and cardio-vascular field, and he has treated patients after a heart attack, with kidneys problems, including kidney stones disease, prostate and spine conditions. Fine Treatment exclusively offers Dr Allen's devices for chronic prostatitis and BPH treatment, coronary heart disease, dissolving kidney stones, as well as back pain and Sciatica relief.