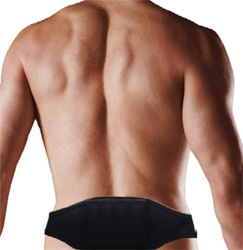 The prostate growth can be terminated by the improvement of the blood circulation in the affected prostate tissue that can be achieved with the new Thermobalancing Therapy only."
London, UK (PRWEB) April 16, 2012
A man has to decide what to choose: either the new Thermobalancing Therapy that treats benign prostatic hyperplasia (BPH) gradually and is side effects free, or one of many surgical removal procedures that promise a quick relief of BPH symptoms but with no guarantee that severe complications are avoided, Fine Treatment reveals. According to the National Institute of Health (NIH), it is common for the prostate gland to become enlarged as a man ages. "At around age 25, the gland begins to grow again. This second growth phase often results, years later, in BPH." Here, it is clearly explained that the development of BPH takes years and even decades. So it is only reasonable to expect that the natural recovery from BPH stimulated by the Thermobalancing Therapy too takes time to occur.
According to the National Institutes of Health (NIH), "an enlarged prostate means the gland has grown bigger. Prostate enlargement happens to almost all men as they get older. As the gland grows, it can press on the urethra and cause urination and bladder problems. An enlarged prostate is often called benign prostatic hyperplasia or benign prostatic hypertrophy. It is not cancer, and it does not raise your risk for prostate cancer."
The absence of an effective treatment for BPH up until now has to be attributed to the lack of understanding of the prostate growth cause. That is why Dr. Simon Allen's research the Origin of Disease is a breakthrough in the thinking about the cause of BPH and designed by Dr. Allen new Thermobalancing Therapy addresses this issue of temperature imbalance inside the prostate and can thus terminate prostate enlargement. The video: http://www.youtube.com/watch?v=dCFy_jZgCLw shows medical documents describing how this natural therapy has reversed BPH.
"The Origin of Diseases explains that prostate enlargement is a result of capillary net growth that follows the lowering of the temperature in the prostate tissue," says Dr. Simon Allen. "The prostate growth can be terminated by the improvement of the blood circulation in the affected prostate tissue that can be achieved with the new Thermobalancing Therapy only."
Read more at http://www.finetreatment.co.uk/prostatetreatmentbph/prostatitistreatment.html.
About Dr. Simon Allen and Fine Treatment:
Dr. Simon Allen is a highly experienced medical professional. He qualified as a medical doctor 40 years ago subsequently heading a hospital. Reaching over 85 countries globally, Fine Treatment offers devices for prostate treatment, for kidney care dissolving kidney stones, for the relief of back pain, including sciatica, and for the post-heart attack heart care.