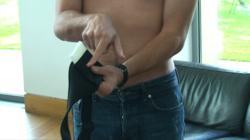 The treatment with the Thermobalancing Therapy is a great way to improve a man's quality of life.
London, UK (PRWEB) January 25, 2012
Fine Treatment introduces a new Thermobalancing Therapy for prostate enlargement making this natural treatment available for all men worldwide. Many treatment options for enlarged prostate or benign prostatic hyperplasia are on offer. So, before selecting a treatment, it is important to take the time to consider the risks and benefits of each method.
According to the Prostate Treatment Options website, natural remedies for enlarged prostate have become more popular. On the other hand, according to the National Institutes of Health, "the claims that Complementary and Alternative Medicine (CAM) treatment providers make about their benefits can sound promising. However, researchers do not know how safe many CAM treatments are or how well they work." So many mainstream medical professionals may find it difficult to comment on the positive aspects of a natural therapy and the benefits it can present to its users.
Any natural treatment, however, has an advantage over drugs and surgeries as there are no complications for the users to worry about. At the same time, most alternative treatments do not have a proven efficacy, and it has prompted some medical practitioners to suggest that they may interfere with certain medical treatments. Well, it now transpires that certain natural treatments ought to be given greater credit.
A new Thermobalancing Therapy is non-invasive and non-pharmaceutical and, what's highly important, has a proven effectiveness. A growing number of testimonials confirm that Dr. Allen's Device for Prostate Care relieves the symptoms of prostate conditions effectively. A video interview, for instance, confirms the efficacy of this natural treatment for benign prostatic hyperplasia (BPH) and for the treatment of chronic prostatitis/chronic pelvic pain syndrome. You can read more at http://www.finetreatment.co.uk/natural-alternative/prostate-treatment.html.
"The treatment with the Thermobalancing Therapy is a great way to improve a man's quality of life," says Dr. Allen. "It is the safest option for the treatment of prostate conditions. In addition, it raises the importance of natural methods for the treatment of prostate diseases."
About Dr. Simon Allen and Fine Treatment:
Dr. Simon Allen is a highly experienced medical professional. His specialty is in the cardio-vascular field, and he has treated patients with coronary heart disease, joint, kidney and prostate conditions. Starting with working as an emergency doctor, he subsequently headed a hospital. Fine Treatment offers Dr. Allen's devices for chronic prostatitis and BPH treatment, coronary heart disease, dissolving kidney stones and back pain relief.
###