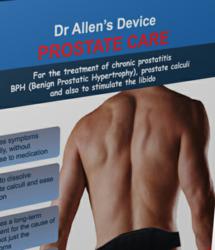 The Thermobalancing Therapy terminates the progression of BPH and thus is a vital treatment for men over the age of 50.
London, UK (PRWEB) January 20, 2012
The need for benign prostatic hyperplasia treatment at home without medication has been addressed by Fine Treatment. A new therapy helps men to get rid of prostate enlargement by wearing a device designed as a soft belt with a natural thermo-element. Several testimonials have confirmed that Dr. Allen's therapeutic device treats prostate effectively terminating the progression of prostate enlargement. This video, for instance, confirms the effectiveness of this natural treatment for prostate enlargement: http://www.youtube.com/watch?v=dCFy_jZgCLw.
There is no other effective treatment which helps to tackle BPH in the same way as the Thermobalancing Therapy does. According to the US National Library of Medicine National Institutes of Health, the results of an international survey show BPH, although a benign disease has a considerable impact on the patient's quality of life. Its progressive nature and the identification of risk factors for progression warrant further investigation.
Contrary to other types of prostate treatments, the Thermobalancing Therapy helps sufferers with BPH to stop the progression of prostate enlargement. According to medical documents, a patient of Fine Treatment with BPH shrank his hugely enlarged prostate, so that an invasive open prostatectomy surgery was cancelled. As the patient describes that he could hardly believe that after he had been sedated on the operation table, the operation plan was changed. The last examination showed that the prostate had shrunk making a trans-urethral-resection of the prostate (a much less invasive procedure) a possibility. For more details, please visit Fine Treatment at http://www.finetreatment.co.uk/natural-alternative/prostate-treatment.html.
"A patient should be aware of an increased risk of BPH progression and aim to prevent it at earlier stages," says Dr. Simon Allen. "The Thermobalancing Therapy terminates the progression of BPH and, thus, is a vital treatment for men over the age of 50."
Why is the Thermobalancing Therapy so effective for BPH treatment? Dr. Allen has discovered the cause of BPH and has developed the Thermobalancing Therapy which tackles the cause of BPH. That is why Fine Treatment is on the 21st Century Health TV, an award winning international television series in the USA. The show can be watched on different channels, including CNBC and Fox Business News.
About Dr. Simon Allen and Fine Treatment:
Dr. Simon Allen is a highly experienced medical professional. He qualified as a medical doctor 40 years ago subsequently heading a hospital. Reaching over 85 countries globally, Fine Treatment offers devices for the treatment of lasting problems in different internal organs such as prostate enlargement, kidney stones, back pain, including the Sciatic nerve, and post-heart-attack conditions.
###