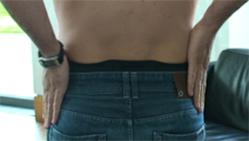 Fine Treatment announced the first entirely prostate treatment in the World.
London, UK (PRWEB) December 21, 2011
Dr Simon Allen of Fine Treatment states a common belief that a medical problem of prostate often leads over time to the development of a prostate chronic disease such as BPH or chronic prostatitis. It was happening because there was an absence of entirely prostate treatment and, accordingly, no prevention of these prostate conditions.
Medication and supplements cannot reach a prostate gland easily, that is why prostatitis has slowly progressed to chronic prostatitis and has been troubled men for decades and prostate enlargement has slowly increased to the size in which open prostatectomy could be the only treatment solution. Furthermore, the blood stream is carried medication around the body increasing the risk of side effects developing.
The research Origin of Diseases by Dr Simon Allen determined the cause of prostate conditions that helped him to implement the Thermobalancing Therapy. This therapy tackles this cause of a problem treating a prostate gland effectively. It is great news which has been confirmed by many case studies.
The second great news is that the prostate treatment by the Thermobalancing Therapy does not require antibiotics, medication and operations preventing men from complications when they use these treatment options. Contrary to them Dr Allen's Device for Prostate Care is beneficial for prostate enlargement and chronic prostatitis, including CPPS and free from adverse side effects.
"Fine Treatment announced the first entirely prostate treatment in the World," says Dr Allen. "Any man can keep a prostate gland in healthy condition by using natural device for prostate treatment only."
The Thermobalancing Therapy enabled by Dr Allen's device for prostate care is a unique and extremely effective treatment as it tackles the cause of the prostate conditions. That is why many people are interested how men can use this magnificent therapy. Oxford Innovation has interviewed patients who have suffered with BPH and chronic prostatitis. You can watch a video about BPH treatment here. The 21st Century Health Television has found the treatment with the Thermobalancing Therapy incredible, so you can see shows about Fine Treatment on different TV channels soon.
About Dr. Simon Allen and Fine Treatment:
Dr. Simon Allen is a highly experienced medical professional. He worked at cardio vascular department and treated patients with renal diseases, joints problems and later subsequently headed a hospital. Fine treatment produces and distributes devices for a prostate treatment, including BPH treatment and prostatitis, for the treatment of coronary heart disease, to dissolve kidney stones and to relieve back pain in the lower and upper spine areas. For more information please visit the Fine Treatment website: http://www.finetreatment.co.uk/natural-alternative/prostate-treatment.html.
###