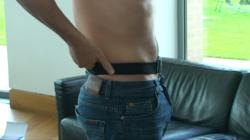 The Thermobalancing therapy shrinks an enlarged prostate naturally relieving the symptoms of BPH.
London, UK (PRWEB) January 15, 2012
Men can learn about new Thermobalancing Therapy at Fine Treatment now. They can also learn how to cure the prostate problems themselves at home and understand that this therapy treats Benign Prostatic Hyperplasia (BPH) and prostatitis without a risk of having complication in the future. An essential prostate treatment solution is an important matter as the prostate problems are fairly common in men of all ages. Fine Treatment suggests that in choosing the right prostate treatment a patient should consider thoroughly the various options to understand the arguments for or against of using a particular medication or operation or natural treatment solution.
According to the AUA Foundation: growing older raises a risk of prostate problems. BPH treatment with medications includes Alpha blockers which may not protect against progression of BPH over time and symptoms or BPH related complications may re-occur. 5-alpha-reductase inhibitors appear to work best in men with large prostates. The combination of both of these drugs provides the best benefit but also the highest risk of potential side effects.
Contrary to medication, the Thermobalancing Therapy helps patients with prostate problems to recover from BPH without side effects. The natural thermo-element is a major part of Dr. Allen's Device for Prostate Care that acts locally all the time while it is applied to the coccyx area. The device creates the ideal conditions for the body's own natural defence mechanisms to rebuild the damaged tissues in the prostate and recover from a problem. The therapeutic device restores potency and increases libido. Read more at http://www.finetreatment.co.uk/natural-alternative/prostate-treatment.html.
"The prostate cure with a natural device is an important issue for sufferers with Benign Prostatic Hyperplasia", says Dr. Simon Allen and adds: "The Thermobalancing therapy shrinks an enlarged prostate naturally relieving the symptoms of BPH."
Several videos confirm that Dr. Allen's natural therapeutic device can treat a prostate well, please see one of them regarding prostate enlargement treatment here: http://www.youtube.com/watch?v=dCFy_jZgCLw.
About Dr. Simon Allen and Fine Treatment:
Dr. Simon Allen is a highly experienced medical professional. He qualified as a medical doctor 40 years ago and later subsequently headed a hospital. Fine Treatment offers devices for a prostate treatment and to dissolve kidney stones, for the treatment of coronary heart disease and to relieve back pain in upper and lower back areas, including Sciatica.
###