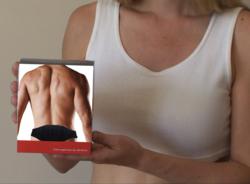 Firstly, Dr. Allen's device for prostate care is effective; secondly, cannot harm; and thirdly, it's easy to use.
London, UK (PRWEB) March 06, 2012
New Thermobalancing Therapy is a natural option for benign prostatic hyperplasia (BPH) that helps to terminate and reverse prostate enlargement and, moreover, avoid complication from medications or prostate surgeries, Fine Treatment reports. There is no other treatment that is focused on getting closer to the problematic area of a prostate over a continuous period of time. Even in the case of a prostate physiotherapy, including prostate massage, it works only for a short period of time leaving the prostate "unattended" between the procedures and thus permitting the problem to worsen, i.e. BPH to progress.
According to the National Institute of Diabetes and Digestive and Kidney Diseases (NIDDK), "because drug treatment is not effective in all cases, researchers in recent years have developed a number of procedures that relieve BPH symptoms but are less invasive than conventional surgery." However, after any surgical procedure, even a less invasive, patients are likely to experience one or a number of side effects.
Contrary to potentially harmful medications and prostate surgeries, Dr. Allen's Device for Prostate Care works 24 hours a day while it is applied to the body in the projection of the prostate on the back. A natural thermo-element creates an ideal environment for capillaries to stabilize the temperature inside the prostate tissue. It reduces pressure inside the prostate gland and improves the blood flow which cleanses the prostate naturally. Several testimonials confirm that prostate treatment developed by Dr. Simon Allen relieves symptoms of prostate problems helping sufferers to recover from prostate enlargement or BPH, for instance, http://www.youtube.com/watch?v=V5xidswhxJM.
"New Thermobalancing Therapy is a unique option of prostate treatment which improves condition of a prostate gland but not tries to eliminate it to ease of the symptoms," says Dr. Allen. "Firstly, Dr. Allen's device for prostate care is effective; secondly, cannot harm; and thirdly, it's easy to use."
Dr. Allen's Device for Prostate Care is easy to use. Read more at http://www.finetreatment.co.uk/prostatetreatmentbph/prostatitistreatment.html.
About Dr. Simon Allen and Fine Treatment:
Dr. Simon Allen is a highly experienced medical professional. His specialty is in the internal medicine and cardio-vascular field, and he has treated patients after a heart attack, with kidneys problems, including kidney stones disease, prostate and spine conditions. Fine Treatment exclusively offers Dr Allen's devices for chronic prostatitis and BPH treatment, coronary heart disease, dissolving kidney stones, as well as back pain and Sciatica relief.